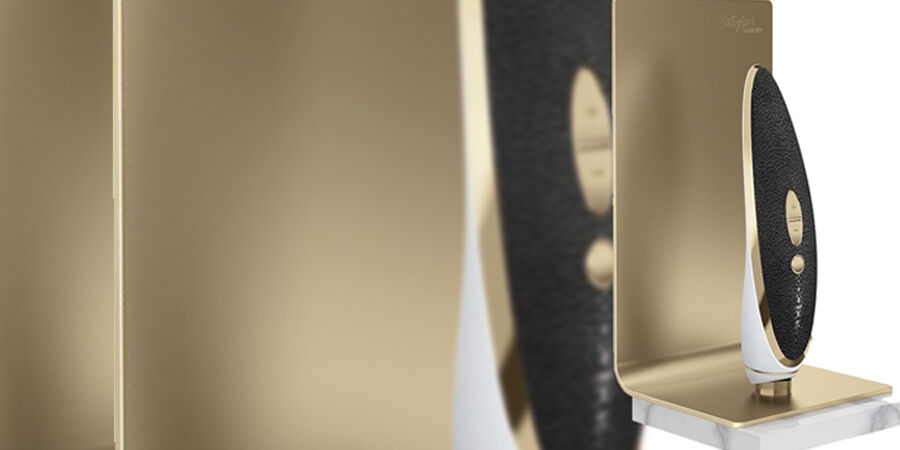 What we have between our legs is priceless, so why not stimulate it with something that's worth its weight in gold? No matter how much good old Freud would insist that vaginal orgasms were the only orgasms — the reality is very different. Blessed be the clitoris! It boasts 8,000 nerve endings, which is precisely twice as many as in the glans penis — the most sensitive part of the male genitalia. So, please, let us adore the humble 'clit' as it rightly deserves. And that's where Satisfyer come in! This prestigious German company has turned the world of female stimulation on its head with its innovative clitoral suckers. We assume that you've already heard of them or have experienced their benefits first-hand (if not, you don't know what you're missing!). But just in case, let's clear a few things up. Satisfyer clit suckers gently and precisely surround your clitoris and stimulate it without ever making direct contact. Repeated, prolonged and extremely pleasurable suction — inspired by oral sex. Are your legs starting to tremble? Well, you ain't seen nothing yet.
How luxurious can your orgasms get?
Following the (well-deserved) success of its first clit-suckers, Satisfyer have continued to release new and improved models right up to the Satisfyer Luxury range — which we're going to discuss here. These three truly luxurious models envelop your clitoris in pure opulence. And why not? Does any other part of your body give you so much in return for so little?
The Satisfyer Luxury Haute Couture has come into our lives to prove that it's even possible to improve perfection. It has an ergonomic 'joystick-shaped' design and is made of extra-soft, medical-grade silicone. The genuine metal detailing and black leather finish give it an unmistakable air of sophistication and elegance. This product will be the luxurious centrepiece of your sex toy collection. What else is new? More power and a more effective whisper mode; all you'll hear is your own heavy breathing as the pleasure takes hold. Let the super-soft silicone ring surround your clitoris and wave after wave of pleasure pulsations massage you — taking you to ecstasy. Adjust the intensity with the simple push of a button, but be warned — you'll reach paradise in no time at all.
The elegant and sophisticated Satisfyer Luxury Prêt-à-porter brings all the glamour of a Gallic movie star to the brand's collection. Boasting a smooth, silky-matt silicone body; it's finished with genuine, textured leather and rose gold-coloured metal details. Unadulterated opulence. If you even like your orgasms to have that exclusive touch, this clit sucker will be your new best friend. The super-soft, medical-grade silicone head moulds itself seamlessly to your clitoris, stimulating it with its range of 11 pressure wave intensities and 10 vibration modes. Just like the brand's other clitoral suckers, the Luxury Prêt-à-porter is waterproof — which will make bathtime even more pleasurable.
And now, the crème de la crème — think of champagne with strawberries in the Paris Ritz's most expensive suite, a drive along the Côte d'Azur in a convertible Jaguar with your hair tied back in a black, silk scarf; a Martini on the Amalfi coast. Well, none of those are even half as alluring as the Satisfyer Luxury High Fashion. The latest novelty from the German company is designed just for you. It gives you what you want; what you crave. This special treat will make you burst right into paradise. "The finest materials provide extravagant orgasms," declare Satisfyer. If that's the case, then be careful — because the Luxury High Fashion is covered in polished aluminium and noble metal details. Its ergonomic shape fits snugly in your hand while its head envelops your clitoris as it provides sumptuous, rhythmic pulsations.
What is it about luxury that we love so much?
It's got to be clitoral suckers! We're of the opinion that they should be available in pharmacies and subsidised by the NHS — because few things improve our physical and mental health so much and so quickly! So, you don't know how to use one? Well, clear a sensual path between your labia majora and labia minora, and place the clit-sucker's head around your clitoris. Now, wait for the storm of orgasms; yes, you read that correctly — 'orgasms' in the plural.
First class orgasms, stylish orgasms; forget about queens, princesses and movie stars — these exclusive orgasms are for you and your clitoris only. You know better than anyone that quality, taste and elegance enhance any experience. Never go without.