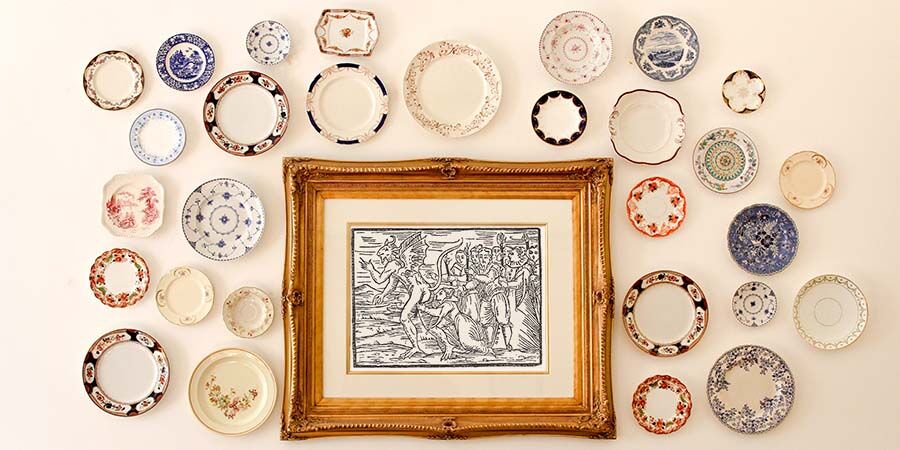 There are playful kisses and passionately indecent kisses. Eskimo kisses and butterfly kisses, French kisses and air kisses. Farewell kisses, goodnight kisses and... the most intimate of kisses. "Where should one use perfume?", a young woman once asked Coco Chanel. "Wherever one wants to be kissed," was the reply. As it turns out, kissing on the mouth and with the tongue is a uniquely human practice. Our lips — plump and protruding — are designed for it; it's natural. There's no forbidden body part and there's no area that mustn't be kissed. 
"Kiss my ass!" — how many times have you heard (or used) this 'offensive' exclamation? But, have you ever really done it or felt a pair of hungry lips and a tongue there? 'Rimming' or 'anilingus' is both poorly understood and stigmatised — arousing both curiosity and rejection. Internet searches for 'rim jobs', which had already been featured in 'Sex and the City', surged a few years ago after a scene in 'Girls' in which one of the main characters seemed to really enjoy receiving anilingus while lying on the kitchen worktop. There are few things that television cannot achieve! Suddenly, a topic that had been reviled and relegated to hardcore porn websites was even featured in the US version of Vogue.
Be that as it may, the 'osculum infame' — the kiss that witches and heretics would give to the devil's anus as a gesture of surrender and submission — no longer seems as sinful. As always, Satan was ahead of the game and knew before most that there was an awful lot of wicked pleasure to be had through stimulation of the sacred hole. And, it's all about perspective — so think twice before telling someone you despise to kiss your ass. Although it's true that you don't have to see their face — but it's always better with someone you like!
What is rimming?
The anus is packed with nerve endings and is one of the most erogenous and potentially pleasurable areas of the body. Rimming, also known as tossing salad, reaming, arse-licking, or motorboating, involves stimulating the anus with the mouth. Like fellatio or cunnilingus, anilingus consists of using your lips and tongue to kiss, caress, suck, and lick your partner's anus. Of course, everyone has their own tastes and can do it their own way. It's time to overcome taboos, fears and take the plunge!
Is it safe?
If you're thinking it might be unhygienic — think again. Just like with any other body part, if the outside of the anus is cleaned properly, you shouldn't have any problems. But If your partner runs from a bath quicker than Usain Bolt runs the 100 metres, then steer well clear of this activity. Keep in mind that infections can also be transmitted through the anus. However, having any injuries to the rectum or mouth may facilitate the spread of any infections. Of course, the key to preventing risk is using protection. The great thing about anilingus is that it is a wonderful and completely painless way to get started with anal stimulation. With a few licks and soft kisses, you can discover what all the fuss is about.
In addition to cleanliness, which we can't stress enough, there's another essential rule that must be followed. If the anilingus is being performed on a woman, never move the mouth, penis, or fingers from the anus to the vagina. Clean yourself well or put on a condom before you move on.
What do you need to perform a rim job?
Willingness, trust, communication and plenty of hygiene. It's one thing because you're open to new experiences, but it's quite another to do it because you feel obliged. If you're disgusted by it, don't do it — you won't enjoy it.
Protection — the most important thing
As we mentioned, you can also catch infections and diseases through anal sex. You should take certain precautions when enjoying anilingus, especially when doing it with someone other than your regular partner. You can buy latex dams, similar to condoms, which are made for this specific purpose. Some people also choose to cut a condom and adapt it, although this can be a bit trickier.
Flavoured lubricants — the best choice
With proper cleaning, there's no need to mask body odour. Nevertheless, if it's your first time; if despite having washed carefully the nerves don't go away; or if you simply prefer it, using a flavoured lubricant can work wonders for you. There's a huge range of flavoured edible lubricants available, and you can also use them to stimulate the area with a light massage.
Anilingus — step by step
Hygiene is essential, so first wash the area with soap and water — not just a quick shower (and please don't swap soap and water for wet wipes).
Start by pampering the area as it deserves by caressing the buttocks but without heading directly for the anus.
Slowly approach this erogenous zone by gently massaging the surrounding area with your fingertips.
Now move your fingers to the anus, rubbing it lightly in a circular motion.
The area is now relaxed and ready to be kissed and licked tenderly.
Run the tongue over the perineum, move it up and down and combine oral and manual stimulation.
Increase the intensity of stimulation; vary the rhythm, movement and pressure — paying close attention to your partner's reactions.
Our advice if it's your first time with anilingus
We recommend that you explore the area on your own. Touch yourself alone — discover what you like and how you like it.
Remember to ask permission; don't just stick your tongue up your partner's ass unexpectedly — that'd startle anyone!
Make sure that both of you fancy it and both of you are ready.
Also, it's better to get rid of any hair down there for a more comfortable and hygienic experience.
Communicate, although this kind of stimulation is very pleasurable, not everyone enjoys it. Ask and answer — don't be embarrassed!
Remember that confidence is everything; if you tense up, your muscles will also contract and it'll be an uncomfortable experience.
Don't move on to the vagina without washing first, as this can lead to infection.
And last but not least, don't kiss anyone's ass who won't want to kiss you on the lips afterwards.
Bon appétit!
Cover image: thumbnail from 'Compendium maleficarum' by Francesco Mario Aguada (1608)