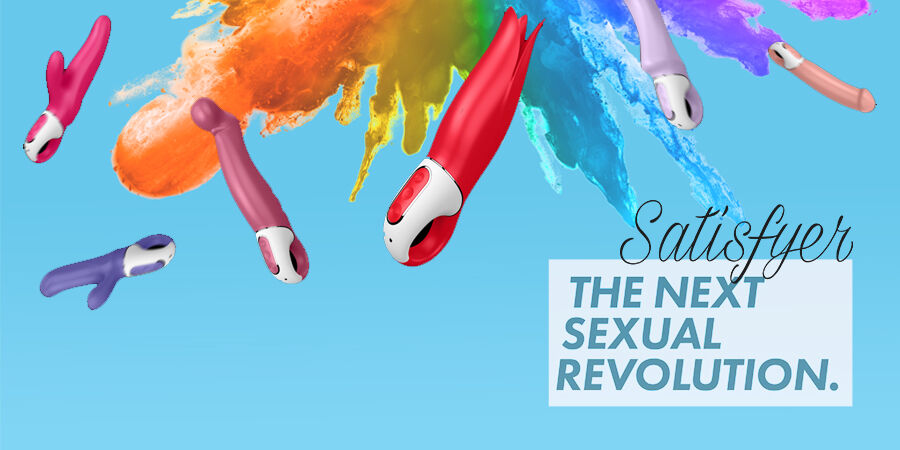 Satisfyer has arrived to revolutionize the market of sex toys. In a world where penetration and stimulation are very successful, Satisfyer brings us the clitoral suckers to make a radical turn on the sector.
Vibrating rings, rabbits, massagers... When we thought we have seen it all, Satisfyer came with its elegant products, full of surprises. They are the clitoral suckers.
The German brand has conquered millions of women with its clitoral suckers and, of course, there's no surprise. These toys for adults are able to stimulate your clitoris without contact and to generate a pleasant tingling sensation, allowing women to reach the orgasm in a short time. The company states that an 83% of women who have tried its suckers has reached the climax in two minutes and, we, from EroticFeel, can confirm that. But this is only the beginning. All the Satisfyer clitoral suckers are waterproof, so you know what it means: fill your bath, take your clitoral sucker and get ready for the most pleasant moment of the day.
The Satisfyer Partner
Satisfyer has not only brought us the clitoral suckers, but a wide selection of products as well. These products can be very interesting for men, women and couples.
All of them have the same design, because no one said that pleasure and elegance shouldn't be together. With regard to sex toys for couples, the German brand has launched the Satisfyer Partner range with two types of products: vibrators and Multitoys. The first ones, in addition to produce vibrations that will make your partner crazy, have a part that can be introduced on the vagina, providing an exciting feeling of constriction for your partner. When it comes to the Multitoys, they can be included in any sexual game, no matter the position. They will stimulate the zone you want in every moment.
The Satisfyer Men
As we have mentioned before, Satisfyer has also brought us male toys, creating faithful companions for modern men: masturbators with and without vibration.
With this information do not think that with the masturbators without vibration you are not going to obtain an intense stimulation or reach the climax, because it is the exact opposite. The Satisfyer Men is not just any toy. It has a unique air cushion, which turns into a love cushion, that surrounds the soft interior. The novel pump feature allows you to add or release air during use, to adjust it to the desired narrowness. Get ready and try it!