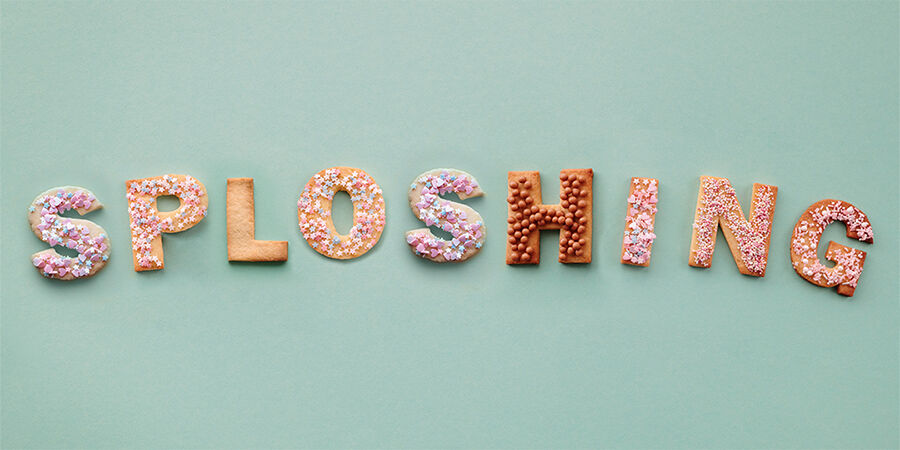 You mustn't play with your food? We beg to differ. Food and eroticism have always been intimately linked, and we have to confess that lust and gluttony are our two favourite deadly sins. We haven't discovered anything new either. What is now called 'sploshing' — a kink consisting of smearing a naked body with food and eating it (or it being eaten by your lover) — was already practised in ancient times. It was a surefire way of making Greek and Roman orgies a whole lot more fun! Why are there so many cookbooks that contain aphrodisiac recipes? Well, because hunger and sex are two basic driving forces — two appetites that affect (almost) everything we do and go together better than bread and butter!
In some rural areas of Britain women would knead bread for their partners, seasoning it with a pinch of saliva and then moulding it between their legs. Cleopatra smeared a smooth paste of honey and ground almonds on her genitals so her chosen ones would lick to their heart's content. Catherine of Russia had tea with vodka and an omelette with caviar for breakfast to ensure that when the evening approached, her desire to frolic remained intact. Why are we telling you this? So you see, that raising the temperature by slurping jelly from her belly button and using marmalade as a massage oil is not that crazy!
What is sploshing?
Sploshing is a kink — a sexual practice in which food is smeared or poured over a body and licked, sucked, nibbled, chewed, eaten... It triggers sexual desire, arousal and excitement thanks to the flavours, smells and textures. "Nothing is more of an aprodisiac as a mousse au chocolat on the skin," says Isabel Allende. Although some may prefer eggs, kebabs or spaghetti — it's all a matter of taste.
The options for sex play with food are endless, however, the most recommended ones are semi-liquid foods (ice cream, honey, yoghurt, creams, cream, custard, syrup). It's about tasting and exploring by stimulating all the senses. There's nothing like variety to increase the appetite.
What things do you need to get involved?
If you've ever taken a can of whipped cream, shaken it up, and poured it over your partner's body — you've been initiated into the world of sploshing. This kink is simple, painless and safe. There are no risks — as long as you don't spread hot chilli sauce on your genitals! All you need is consent, to feel comfortable and to feel uninhibited. Choose the foods you are going to use (you'd better both like them!) and get going!
How to do sploshing
Clean freaks and viewers who can relate to Monica's character in Friends — maybe sploshing isn't the kink for you! If you're going to be worrying about how the hell you're going to get that stain out of the sheets while your partner slathers your body with fruit and strawberry ice-cream, you're unlikely to enjoy such experiences. For everyone else, the key is to get swept up in the moment. Concentrate on the sensations, smells, flavours and textures. Choose foods that you like and don't just use your mouth and tongue — also your hands and the rest of your body.
Our tips for safe sploshing
Remember that your genitals are extremely sensitive and that many foods can produce irritation and even cause infections. Avoid inserting anything into your vagina.
If you're going to engage in temperature play, be careful that the food isn't too hot. Warm chocolate can be fabulous, but if it's boiling hot, you'll end up in the emergency room.
If it's your first time, avoid heavy foods and opt for light, mild delicacies instead.
Find a place where you'll both feel completely comfortable. We have read somewhere that it's a fantastic way to spend a night in a hotel. Of course, we disagree. It's better to mess up your own house a little instead of giving more work to those poor, underpaid hotel cleaners! You'll be able to get most foods (ice cream, yoghurt, syrups, cream) out in the washing machine. You could also use a towel, sheet or any other item of clothing that you don't mind getting a stain on and place it on top of your bed sheets.
Sploshing is not a quick kink. If you have twenty minutes before you leave for work, leave it for another time and take it slowly.
No squeamishness. If it grosses you out, don't do it. To enjoy it you have to taste the food; suck, lick, bite, caress.
Of course, shower immediately after you've had your fun to remove any food particles from your intimate areas.
Playful lovers: sin with gluttony and desecrate your bodies with succulent delicacies. It's the best route to a Michelin-star orgasm.