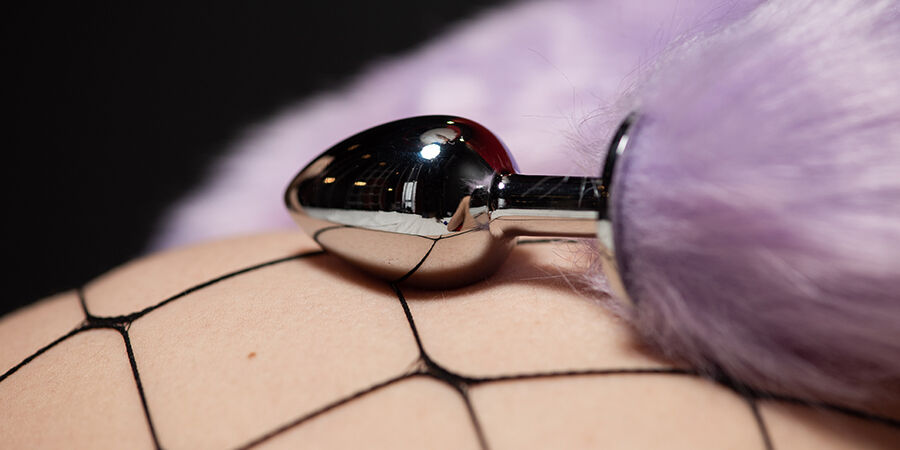 Sure you can; no problem at all. But that's not the only thing you can use it for — otherwise this article would be so short that we wouldn't even bother writing it! The butt plug is the champion of anal play. Men and women cannot simply live by genital stimulation alone, so let's delve into the wonderful world of anal stimulation — the taboo subject par excellence. To give you a little context, up until 2002, there were still 10 states in the United States where anal sex was against the law. Unbelievable, right? Indeed. Especially due to the fact that some gentlemen think they can tell us what we must or mustn't do in our own beds — let alone in our anuses. Well, despite this, half of women between 25 and 30 years old admit to having had anal sex. What's more, men should be delighted with the results of recent studies which have proved that orgasms reached through anal stimulation are much more intense than those experienced through penile stimulation on its own.
Solo anal stimulation? Yes, please!
Fear, embarrassment and shame are the evil trident when it comes to anal sex. Banish them. Also, don't just assume that anal stimulation is a practice that can only be performed with a partner. Getting to know your body on your own first is essential if you are to enjoy sex as a couple. Masturbation is always the key. Just remember that this is an extremely sensitive area, so you must be even more careful with your rectum than you are with your genitals. Please, no weird stuff. No toothbrushes or marbles or tropical fruit with prickly skin. Why risk a painful and uncomfortable visit to accident and emergency when there are wonderful sex toys that are lovingly designed for this very purpose? This is where butt plugs make their grand entrance.
Both men and women can enjoy these little toys which are designed to stimulate the nerve endings in the anus and rectum through dilation and pressure. The anus is one of the most erogenous parts of the body. In the case of men (for women, the clitoris wins), it's the body part with the most nerve endings. Yes, more than the glans. Butt plugs are available in a range of sizes, made of a variety of different materials and even designed for fantasy role-play. Now, they all have a narrow tip, which widens for progressive stretching of the anus — making the penetration more pleasurable as it's inserted. Remember that the anus, unlike the vagina, doesn't dilate or lubricate naturally. A little help is required, so equip yourself with a good lubricant and a set of anal plugs. As you can see, they have a basic stretching function for both beginners and experienced users.
What is a butt plug used for?
Anal plugs are not only used to stretch the anus and experience painless penetration. If you throw in a little imagination, you'll find they have several other uses such as delivering double penetration for women during vaginal sex; stimulating the male prostate, whether during sex or masturbation; simultaneous stimulation of the anus and perineum; stimulation of the anus while receiving oral sex; and indulging your partner's fetish fantasies. This is where those fantasy role-play plugs come in. 
How do you use a butt plug?
Choose the right plug. You're probably already aware of this. Obviously, if it's your first foray into the world of anal stimulation, you won't choose the same plug as someone who's already enjoyed a few orgasms through stimulation of the nerve endings in this highly-sensitive area. If you're just getting started, choose a small, smooth plug to make insertion easier.
Choose the right lubricant. There are lubricants that are specifically designed to help stretch the anal area by promoting muscle relaxation. But you should also consider the material the plug is made of. If it's a silicone plug, opt for a water-based lube to prevent damaging the material. In any case, apply it generously — the most important thing is to use enough. 
Before getting things under way, apply the lube with a gentle massage to help relax the area.
Start inserting the plug gently, without hurry; little by little — that's the key. As you stimulate the anus, it will stretch with the help of the toy. Savour the experience.
Anal plugs with diamonds, gold or tails
Well, now that you know what this sex toy can be used for, let's talk about the different options you can choose from. As for materials, the most common is hypoallergenic medical-grade silicone, although you can also find them made of stainless steel, aluminium, PVC, glass and — even gold. A shiny butt plug with diamonds and other gems will every jewel enthusiast's favourite toy. Fetishists can choose from a wide variety of plugs with a wide selection of different animal tails.
Our advice: little by little, start with the smallest, lubricate generously — relax and enjoy. The process is all part of the fun.