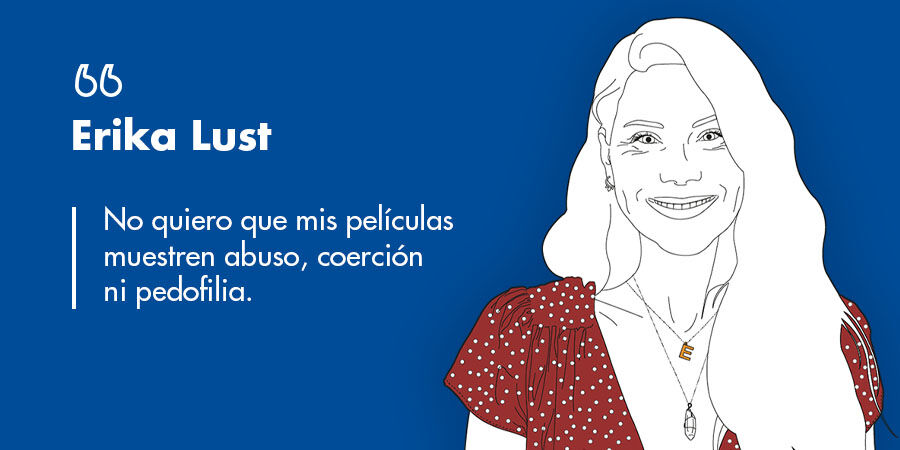 There are those who walk the path and those who lead the way. Adult film director Erika Lust is one of the latter. She also deserves particular credit for doing so in a field that is as old as it is controversial. Desire and reason don't go hand in hand (nor do they have to). However, getting aroused by something that makes you feel uncomfortable, something that goes against who and what you are, is like dancing to the rhythm of that song you hate — your hips move but your head disagrees. Something like that happened to this Barcelona-based Swede the first time she watched porn. "I felt that something was wrong with that kind of portrayal. The woman's role focused too much on pleasing the man — everything was filmed from the male perspective. I knew that female sexuality was much more than that". From erotic cave paintings, to sexual graffiti in Pompeii or Catherine the Great's fondness for furniture decorated with genital motifs; clearly, Pornhub didn't invent pornography. "It says a lot about who we are and how we live," she explains, "it can be inspiring, but it is primarily the result of who we already are, just like any other cultural product".
So, faced with a network teeming with free, generic videos exploiting the same old tired formula of genital close-ups, Lust endeavoured to create a product that was mindful of both image and narrative. Sexual encounters, of course — but "sexy and fun" and no ambiguity when it came to the consent of all participants. "One of the most damaging ideas presented in your typical porn film is that there's only one right way to have sex. Sex isn't a mechanical act and I think there's a lack of films that depict the seduction, the chemistry, the play".
 "A lot of people laughed at me saying that my idea was ridiculous, that there was no market for women."
And, it was precisely with this in mind when in 2004, she shot her first short film, 'The Good Girl'. But how would it work? Do women actually like porn? "A lot of people laughed at me saying that my idea was ridiculous, that there was no market for women." You pay women to make porn; you don't make films for women,' they would say". She posted the short film on her blog and within two weeks it had reached two million downloads.
Today, Lust is one of the most important adult film directors in the world and one of the 100 most influential women, according to a 2019 list compiled by the BBC. Her projects include XConfessions: a collaborative platform where she helps transform people's real fantasies into short films; Lust Cinema: an adult studio that produces plot-driven series and films starring some of the most popular actors in the business; Else Cinema: a plaform for those looking to view softer, more sensual and more realistic erotic experiences on screen; and Lust Zine: an online magazine featuring uncensored articles and videos on topics related to sex and sexuality. She insists that there is huge diversity within the label 'feminist porn'. "For me, it's about depicting the pleasure of women, men and any other non-binary identity equally — without stereotypes". She argues that "the sexism and toxic masculinity that is present in mainstream pornography does not stem from the industry — that's something that already pre-exists in society". However, there are a few lines that her films do not cross.
"I don't want my films to depict abuse, coercion or paedophilia". Nor do her films show typical elements of mainstream porn such as the 'facial cumshot' or sex between step-siblings, "I don't think these two things are bad per se as long as they happen between two consenting adults — they just don't belong in my creative universe," she explains. "I explore all kinds of desires through my films. I believe that pornography as a medium can be used in a positive or negative way and that it's absolutely possible to create pornography that is not rooted in exploitation and misogyny. Alternative adult cinema helps many viewers to celebrate their sexuality and be empowered when it comes to sex in a variety of ways".
Now it's time to delve into a subject that's as tricky as it's hotly debated. The data is out there: according to a 2019 study, pornography is so easily available that the first time the average child accesses this type of material is at the age of 8 years old. But should it be an educational tool? "I don't think it should have that responsibility. They're going to encounter these videos, so instead of ignoring them or banning them, let's educate them", she explains. Consequently, Lust and her partner have created 'The Porn Conversation' — a non-profit website where, with the help of experts, she offers advice and practical guidance for families and educators on how to talk to young people about pornography. "Pornography will always exist, so giving them the tools to be mindful of what they are watching is incredibly important."
Lust is proud of all her projects, but this month she is launching a very special one for XConfessions. 'Wash Me' will be the first ever erotic film that aims to raise awareness about breast cancer and our relationship with our sexuality during and after chemotherapy". The short film, based on director Rebecca Stewart's real-life experiences, aims to provoke debate and inspire hope. You can watch it for free by registering at this link and every time it is shared on social media, one euro will be donated to immunotherapy research at the Hospital del Mar in Barcelona, where Rebecca was treated.
"Each of my films recounts a part of my own personal journey into the world of human sexuality". Our advice? Dare to experience eroticism the way Erika Lust does.