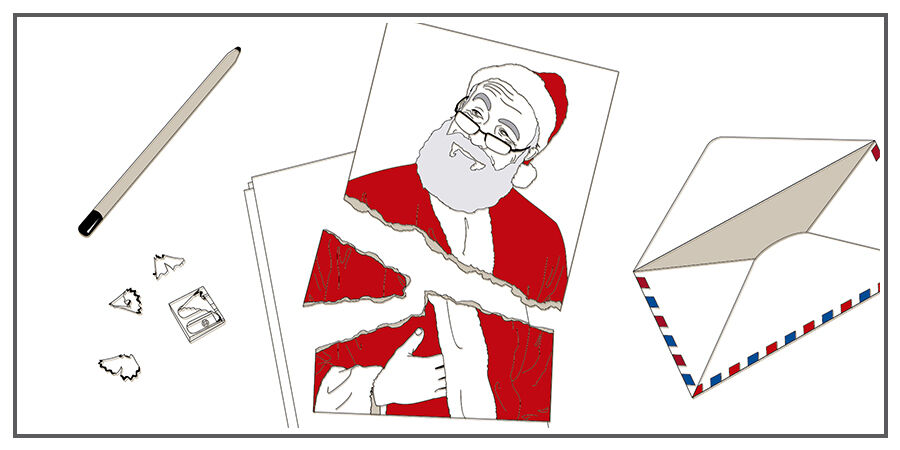 Dear Santa, after more than twenty years you and I need to talk. You may think that I am too old to write you, but I think you owe me. Let's do a little review to bring you up to date. I, unlike kids today (oh gosh, I sound like an old woman), knew perfectly that you, the all-powerful but also fattest superhero, could only bring a present per child, because otherwise the reindeers would be crushed to death, and nobody wanted that. Therefore, I just asked you for one thing for Christmas 1994. I had watched the commercial thousands of times. You allowed me to get obsessed with that damn doll and I had already pictured myself swimming with her in the bath while her tail changed colour. In my letter, that could have been a post-it note or a sheet of paper torn out of my math notebook (the least used), there was only one thing - Cabbage Patch Kid. It was not a big deal, was it, you jerk?
The day came and I was very excited. I went downstairs and there, under the Christmas tree, was the present. But it was not the Cabbage Patch Kid, do you remember? It was a fucking porcelain clown doll that surely came from hell. A diabolical clown with a sinister smile that you could only like if you were a child of Stephen King. That must have been a joke. What did I do wrong? I fell asleep crying while my dad (it is not that I imagine that, but he has actually admitted it) subdued the desire to throw me and the stupid clown out of the window. Do you remember already? The Cabbage Patch Kid was not there, but the milk and the cookies that I left you were not there either. You gobbled them down, you fat bastard.
But that was not all. Where are my Sindy, my Spice Girls cassette tape, my Playmobil farm and my Lelli Kelly? They had lights! Did you really think that I would prefer an ugly pair of patent leather shoes for Sundays? And what about the cassette tape of Eternal instead of Spice Girls? Were you drunk or did you just want to transform me into an outcast? Do not brand me as resentful, but you were a bit of an arsehole, so you owe me something very very big. Do I not deserve to believe in magic again?
If you want me to forget that you were to me more Donald Trump than Santa Claus, you know what to do. In principle, it would not make any difference whether I have been good or a pain in the ass, because you are many years late, but it turns out that I have been very lovely. How do I know it? Because I am not in prison and I am here giving you a thirty-second chance. I advise you not to waste it.
This is my wish. I have been hearing wonderful things about it for several months. It is following me. I wake up in the morning, read the newspaper and... Boom! There it is. I turn on the TV and... oh, surprise! There it is. I speak with my friends and, of course... there it is (even the most sceptic has succumbed). Do I not have the right to experience that wonder? Once again there is only one thing in my letter - a clitoral sucker. But I warn you that there are a lot of types and mine should be of good quality, because I want to use it a lot. No private labels, this is not tomato sauce. Do you know what I mean? If I was expecting to have a grandma's homemade tomato sauce, I would be very disappointed if I would get a ready-made supermarket sauce. For Christmas I just want to enjoy an infinite orgy of mince pies and orgasms.
Now it is time to say goodbye. I really hope to not have to get in touch with you again. One last thing - while you were devouring hamburgers, did you have time to watch "IT"? I did. Since I was eight years old, I have developed a love-hate relationship with clowns. I particularly like the part of the threat: "I'll kill you all. I'll drive you crazy and then I'll kill you all. I'm every nightmare you ever had. I am your worst dream come true. I'm everything you ever were afraid of". It is just a film, of course, but remember that I am the girl whom you gave a porcelain clown doll to, and this year I wish to receive a clitoral sucker.