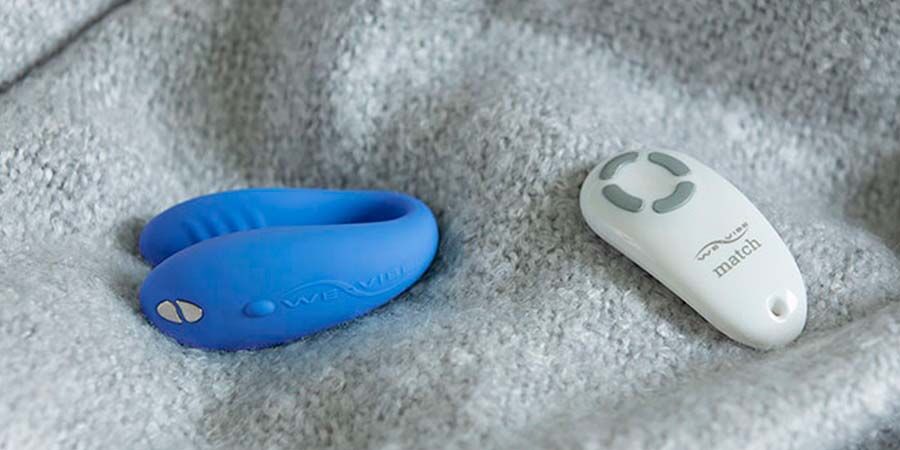 We are loyal advocates of the lobster theory that worked so well for Ross Geller. But don't get us wrong, we don't believe in ''the better half''. No one is out there waiting to make you 'complete' — you don't walk around with a piece of your spleen or a part of your pancreas missing! But there is one sex toy that'll bring so much joy to your relationship that you'll fall in love over and over again. You may even be that loved-up elderly couple years from now, strolling arm-in-arm and both clutching your favourite erotic toy. Because there's a toy that'll suit you both perfectly, that'll open your eyes and legs to new realms of pleasure, that'll spark the desire and keep the flame of passion alive! In the future, the happiest couples will no longer exchange rings as a token of love and fidelity; they'll instead exchange sex toys as a way of remaining united in pleasure and intimacy. Listen up, because this is what the wedding vows of the future will be like: "I give you this Satisfyer Endless Joy as a token that I will spend the rest of my life endeavouring to give you the most powerful orgasms you've ever imagined." It brings tears to our eyes.
In this article, we'll be explaining why you should use toys with your partner and highlight the most popular models that could best suit you depending on your tastes and needs. But before we do that, allow us to address a misconception that really makes our hair stand on end. A toy is not a threat, having one doesn't mean that one partner is not good enough in bed, and it's not a replacement or substitute for anything! According to relationship therapists, this is one of the most widely held beliefs. But do we have to go on believing that? When your best friend was given a Scalextric set for Christimas, did you think he wouldn't want to play with you any more because you didn't have electric traction? Does adding sugar to your tea or coffee mean that it's not good enough? A little common sense, please!
There are as many types of partners as there are sex toys and using them just enhances communication between both of you — in and out of the bedroom.
Why use sex toys as a couple?
"A 2016 study by David Frederick Ph.D. of Chapman University found that women and men who reported feeling satisfied with their relationship and the sex they had with their partners were more likely to have used sex toys together. They were also more likely to engage in other activities like bathing together, trying new positions in bed, and scheduling a date night for sex," and this, my friends, is not from us — it's published in an August 9, 2020 article in Psychology Today.
To be clear: in a healthy relationship where couples are not afraid to seek new forms of intimacy and explore new pleasures, the use of sex toys helps to keep passion and desire alive. Do you need any more reasons? Let us give them to you:
To break the monotony
Sex toys are nothing new. Yes, they are now more modern than the perfectly polished stone phalluses used by primitive homo sapiens. They have more features, vibration patterns and can even be controlled remotely — but the bottom line is that the use of an external element for satisfying your sexual desires is nothing new. Are you going to be more old-fashioned than those dishevelled guys who painted caves? (We say this with all due respect, because they were way ahead of us when it came to not eating transgenic fats or fruit with pesticides).
Any sex toy you use as a couple will provide the perfect opportunity to escape the routine and break the monotony. Increased arousal is inextricably linked to novelty and the great thing is that the sex toy market is so diverse that you can increase arousal as often as you like.
For fun
Excuse us, but is there a more important reason? Enjoyment should always be present — both during sex and while preparing dinner. Of course, you can't always succeed; it's hard to have fun ironing or cleaning the bathroom. Nevertheless, in bed there are no excuses. It's time to turn off the TV and turn on the desire. Sex toys for couples will help you to get to know each other better. They'll help you to provide each other with shared sensations that would not be possible without them. No one has a motor that vibrates in their fingers — no matter how well he moves them! And no (non-fictional) person has the ability to stimulate his partner in public without touching her.
To boost libido
When you start a new relationship, the desire flows in abundance. The rest of your needs disappear; you hydrate yourself and ingest something simply so that you don't die and can continue exploring, touching, and discovering this new person. This first phase is really good — there's no denying it. However, it can get even better later on. This intense desire may disappear as time goes by, of course. However, if you play your cards right, as you get to know your partner more and more, the relationship will become much more rewarding than it was at the beginning. And this is where adult toys can play a significant role in your intimate life. They'll help you to break down taboos you didn't even know you had, show you new ways, new sensations, and your desire for this new experience will be as strong as it was at the beginning.
What sex toys for couples can I use?
Whichever you like. There are toys, which we'll tell you about later, which are specially designed for couples and give pleasure to both partners. However, it's also true that any toy will do if you want to drive each other wild. Ask yourself — what turns you on? Of course, stimulation of your erogenous zones is the obvious answer. But what about seeing how your partner breath starts to shorten and become heavy as the pleasure takes hold of their body? That's not bad either.
There are toys that can be used to add more satisfaction to vaginal penetration, and others that are perfect for masturbation, long-distance stimulation, or more daring alternative play. The only important thing here is to forget norms and conventions. What do you like? What do you fantasise about? What would you be excited to try out? Don't settle for less.
Vibrators for couples
We're talking here about couple vibrators which, as a general rule, are U-shaped and have a narrower, insertable part in the vagina and an external, wider part that rests on the clitoris. It's the perfect toy to intensify the satisfaction of intercourse with penetration for heterosexual couples. The vibrations will simultaneously stimulate the most sensitive parts of the vagina, the penis and the clitoris. The man will also enjoy a greater sensation of tightness inside the vagina — increasing the pleasure with every touch.
There are also less conventional models such as the Satisfyer Endless Joy. These vibrators offer unparalleled versatility. They allow you to stimulate the nipples, clitoris, labia, testicles, perineum or glans and are perfect for all types of couples.
Vibrating rings for couples
Vibrating cock rings are perfect for solo or couple use. But as today's article is about using them in company — pay attention. This small, powerful toy has more features that you'd expect. There are many types and many different brands, but all of them have a ring that hugs the penis and a broader end for direct stimulation of the clitoris, testicles or perineum. The key is the position in which you place it.
In addition, the effect of the ring at the base of the penis will lead to a more powerful and longer lasting erection. What does this mean? Well, you'll be able to last longer and the orgasms will be more intense. If you use it with a female partner, make sure that the wide part of the ring is positioned upwards so that it gently rests on her clitoris during penetration. We remind you that more than 80% of women need stimulation of this organ to reach climax — so success is guaranteed. You can read our guide on how to masturbate the clitoris.
Using a clit sucker as a couple
And here comes the eternal question. Are clitoral suckers toys that you should use alone? Not necessarily. Sure, using it on your own is fantastic. But what if your partner can control it? What if they hold it — pressing it against your body and pulling it away at just the right moment? What if they raise and lower its intensity without you being able to do anything about it? We promise it's a great game, but it all depends on how you think about sex. If you're only interested in penetration, this toy may not be for you. But if you're interested in sexuality in caresses, masturbation, oral sex, and pleasuring your partner — then try using this toy in your next encounter. It won't leave you disappointed.
Bondage and BDSM toys for couples
Maybe you think that the world of BDSM is not for you. Perhaps you don't like the idea of BDSM and you're not a fan of pain. OK. But first you should know that BDSM covers such a broad spectrum that it's almost impossible that you haven't fantasised about any of the practices it encompasses. Be blindfolded and have your partner explore your whole body with their hands or with a feather; tie up your partner as you kiss them, touch them or masturbate them without them being able to do anything to avoid it; have your arousal heightened with a spanking while the touch of the leather rubs against your buttocks...
Surrender to your partner or dominate him or her consensually — this is one of the most intimate and provocative games. We bet your month's salary that if you take a look at the many BDSM accessories that are out there, your libido will skyrocket just by imagining what's to come.
Sex toys with app
This is a big deal. So, what has technology done for us? Well not as much as the Romans did, that's for sure! But nowadays you can video call your cousin who lives in Amsterdam, search for the music you like without having to record the whole radio programme on cassette, and you can see how that handsome guy from high school is now bald on Facebook. You can even stimulate your partner thousands of miles away or turn a dinner with friends into a moment that is as intimate as it is arousing.
We're talking about sex toys that can be controlled remotely thanks to an app in your mobile phone. What for? To make long-distance relationships much more bearable, to fulfil your fantasies with an orgasm in public (be careful with your expression — it shows!) and to innovate in your play until you are exhausted and happy.
Top brands of toys for couples
The best known and most prestigious brands on the market have an entire catalogue of toys specially designed for use by couples. If you're looking for quality, innovation and the latest technology, you don't have to look far. There are safe bets.
Satisfyer: for everyone
The celebrated Satisfyer, a brand which has become a byword for clitoral suckers, has much more to offer than the toy that has revolutionised female sexuality. There are remote control couple's toys like the Satisfyer Parner Plus Remote, there are those that are compatible with apps which allow you to control them from anywhere in the world like the Satisfyer Double Joy. There are also versatile ones for couples like the Satisfyer Endless Joy or powerful rings like the Satisfyer Strong One.
If you are looking for quality at the best price, Satisfyer wins hands down.
LELO: the most sophisticated toys
The Swedish luxury toy brand is not for everyone. LELO is design, character and their toys boast such soft materials that you would fall asleep hugging one after a good orgasm. And yes, this brand also has jewels to share pleasure with your partner like the flexible Tiani 3 with remote control, the mind-blowing LELO Ida that combines powerful rotations with 8 different vibration modes, or the adjustable and sophisticated Noa.
Do you want luxury stimulation? LELO is a great choice.
We-Vibe: for remote use
We-Vibe was born with the aim of improving your sexual experience as a couple. Perhaps that is why it is the brand that has done the most research on sharing toys, placing special emphasis on factors such as ergonomics and comfort. Pioneers in the field of remote control toys, some of our favourites are the We-Vibe Match (silent, waterproof and with 10 different vibration patterns), the We-Vibe Unite 2.0 (textured, with two motors and even praised by Oprah Winfrey), or the We-Vibe Verge (an elongated and flexible vibrating ring for stimulating the perineum with 11 different vibration programmes).
If you're going to do it, do it well. More passion, more desire, more intimacy, more pleasure. Your bed is crying out for an adult toy. Are you listening?