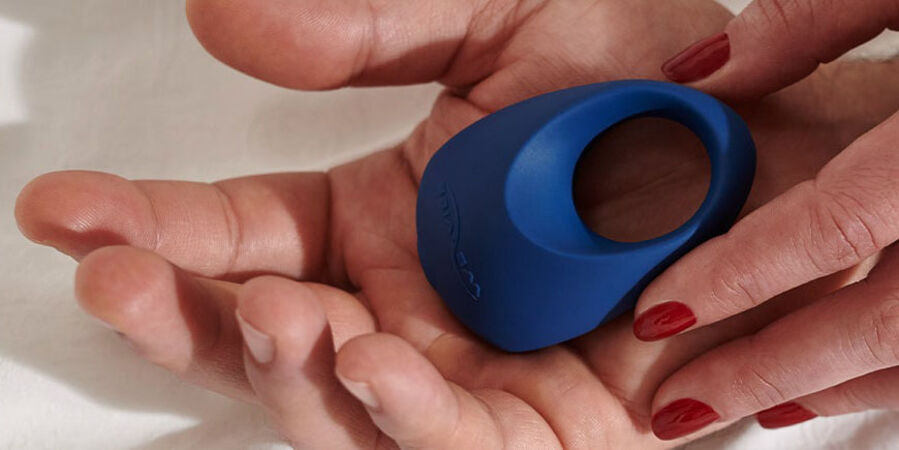 Paula Álvarez Sánchez de Amoraga
1/27/2022
If, like Frodo, you desire the ring but you're not sure how to go about it, then you're in the right place. But first, we'll let you in on a secret: faraway from Middle Earth, EroticFeel is the place where you'll find the ring to rule them all, to bring them all and bind them — not in darkness, but in the most long-lasting and intense pleasure. Vibrating rings or vibrating cock rings are the perfect sex toy to enjoy as a couple or for your solo moments of pleasure. They're versatile, great value for money and provide numerous benefits. There are models for everyone out there; some are designed to stimulate your partner's clitoris during intercourse, others to stimulate your own testicles and perineum; others are grooved, others work with an app so you can control the vibrations from your mobile or hand over control to your partner. Nevertheless, you may still have many questions: how and when should I put it on? When should I take it off? How do they work exactly? We promise that by the time you finish reading this article, a vibrating ring will be the only piece of jewellery you'd be willing to say 'I do' for!
What is a vibrating ring?
Let's go step by step. The most common type of vibrating ring is designed to be worn around the base of the penis, although some models also fit around the scrotum and testicles. Whichever type you choose, the vibrating ring will always be made of a soft and stretchy material — usually medical-grade silicone. It will be made up of the ring itself and a wider part which houses the motor that delivers the vibrations. This wider part is shaped differently depending on the area of the body it is intended to stimulate: it may be round and ribbed if it is designed to stimulate your partner's clitoris, or it may have a more elongated design if it's intended to stimulate the testicles or perineum.
It's important to distinguish between a vibrating ring and a cock ring — they're not the same. A cock ring is just that — a ring that retains blood flow to the penis and doesn't provide additional vibration. The most prestigious and popular sex toy brands have a multitude of vibrating penis rings in their collections. The latest models are even compatible with apps, so you can get somebody to control your stimulation or control somebody else's stimulation remotely from a mobile phone.
What can a vibrating ring be used for?
The million dollar question — what is a vibrating ring for? The ring will wrap around the base of the penis, applying light pressure. This ensures that blood flow is retained in the glans penis, helping to keep an erection for a longer period of time. Remember that blood circulation is not cut off— it's just restricted! The ring provides a longer-lasting and more powerful erection, delaying orgasm and making it much more intense when it comes. Stay tuned; below we'll give you a series of essential, risk-free tips on how to get the most out of your vibrating ring.
In addition to boosting and prolonging erection, the vibrations will provide intense stimulation to her clitoris, mons pubis and part of her vulva, as well as his testicles. It's the perfect toy to use as a couple and it helps you to practice coital alignment — a technique that many people are still not familiar with and which we'll explain below.
Use it on your own or with a partner
One great thing about getting a vibrating ring is that you can enjoy it in different situations. Want to take your solo masturbation session to the next level? Perfect. Place the wider part of the ring, where the motor is located, facing downwards so that it stimulates your testicles directly while you stroke your penis. Choose the intensity that feels right and experience something you've never even dreamed of before.
Are you going to use it with a female partner? Here, the wider part of the ring should be positioned facing upwards so that it rests directly on her clitoris. The vibrations are so intense that they will not only stimulate the clitoris, but also the mons pubis and most of the vulva — reaching every nerve ending. Now check out this important tip: the way to really make the most of a vibrating ring is by applying the coital alignment technique. Now, you've heard of the missionary position, right? It's similar. Let us explain. The woman lies on her back and the man lies on top of her — so far so good. However, instead of spreading her legs, the woman should keep them slightly closed and her pelvis slightly elevated (a pillow can be placed underneath to make it easier). The hips of both partners should be aligned (hence the name of the technique), and the penetration, instead of being in a back and forth motion, should be from top to bottom. What is the point of all this? Essentially, to stimulate the woman's clitoris directly, bringing her greater pleasure.
How to place a ring on the penis
The vibrating ring should be placed at the base of an already erect penis. Remember that its job is to help keep an erection for longer rather than help you get one. Apply a little water-based lubricant to make it easier to put on, and the ring will slide more comfortably into place. If you're going to use it with a condom (remember that condoms are the only effective method for preventing sexually transmitted diseases), put the condom on first and the ring over it. Just be careful because you could get pubic hair caught in the ring. If you want to completely eliminate the possibility of this happening, then shave the area beforehand.
Now, as we've already mentioned, you can position the vibrating part facing upwards or downwards depending on the area you wish to stimulate. Testicles and perineum — downwards. Clitoris and vulva — upwards.
How vibrating rings work
Vibrating rings or cock rings work by restricting, not cutting off, blood flow to the penis. This prevents blood from flowing back into the body and makes your erection more intense and longer-lasting. This also means that intercourse or masturbation will last longer and orgasm will be delayed. What's more, these erotic toys, as their name suggests, are equipped with a motor that provides intense vibrations to increase the pleasure of stimulation. As you can see, vibrating rings have it all — more pleasure for longer.
Silicone cock rings
Hypoallergenic medical-grade silicone is the safest material for your sex toys and luckily, most of the vibrating rings you'll find at EroticFeel are made from it. Silky-smooth and soft to the touch, silicone is more flexible and stretchy than other materials, making it ideal for penises of all shapes and sizes.
Both Satisfyer vibrating rings, as well as We-Vibe ones are made of medical-grade silicone and are really easy to clean. Simply wash them after each use with warm water and mild soap or spray them with a sex toy disinfectant.
Vibrating rings for couples
All vibrating penis rings are designed primarily to be used with a partner. Although you can use them alone, you can get the most enjoyment out of them as a couple. Just browse through the different designs and choose the type of stimulation you prefer. There are vibrating rings with rounded, ribbed heads designed to effectively target the clitoris like the Satisfyer Signet Ring; rings with long, ribbed heads to target other erogenous zones in the vulva such as the Satisfyer Powerful One; or rings that can be controlled from your mobile phone with an application, such as the We-Vibe Verge. All of these are ideal for making partner stimulation much more exciting.
Tips on how to use them properly
Keep in the mind following series of essential tips to use your vibrating cock ring correctly and safely:
Never use it for more than 30 minutes at a time. Remember that the ring helps to constrict blood flow by applying pressure to the base of the penis — that's why you shouldn't use it for more than half an hour at a time.
Remove it immediately if it starts to hurt. A feeling of pressure is normal and necessary for the ring's intended purpose, however, it should not cause any pain. If you do feel any discomfort or pain, take it off.
Also, take off the ring before you climax. When you feel you are close to orgasm, slip off the cock ring to ensure smooth and natural ejaculation.
If you're going to use a condom, put it on first and place the ring over it.
Summary of how it's used
We hope we've answered all your questions about vibrating rings. Remember that they are the perfect toy to use as a couple; place it at the base of the erect penis with the help of a little water-based lubricant. If you are going to use it with a condom, put the condom on first and then the ring on top. Point the vibrating part towards the area you want to stimulate: upwards to stimulate the clitoris and downwards to massage the testicles and perineum with the vibrations. Also remember that the best way to enjoy the ring with a female partner is by applying the coital alignment technique (similar to missionary but with the woman's legs closed, pelvis raised and with up-and-down motions). Remove the ring a few seconds before orgasm so that ejaculation is natural and never use it for more than 30 minutes at a time.
Well, now you're armed with this expert knowledge, it's time to put it into practice my young Padawan.