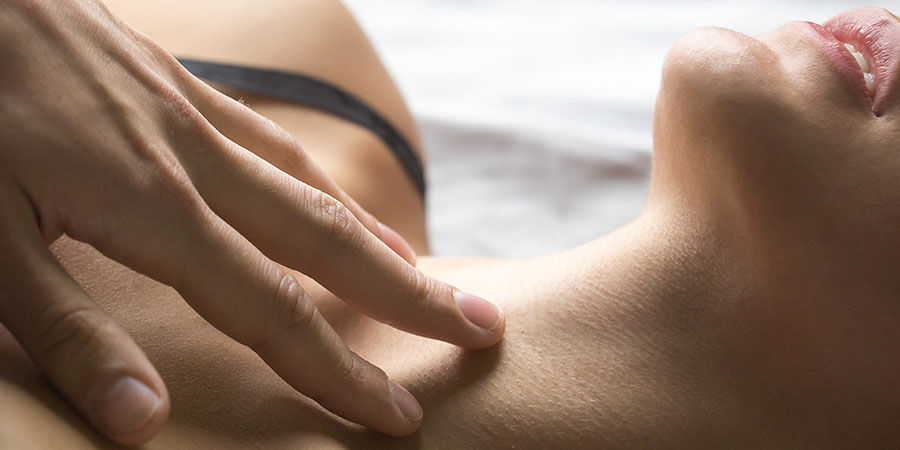 At EroticFeel, we know that although pleasure is highly subjective, the benefits of a good lubricant are completely quantifiable! Natural lubrication diminishes with age, but it is also reduced during certain times of the menstrual cycle, when taking certain medications and during periods of stress or anxiety. What's more, contrary to what many people think — lubrication and arousal do not always happen together. This is true of parts of the body that lubricate naturally, such as the vagina. When it comes to anal stimulation, it is always, and we repeat — always — necessary to be generous with the appropriate lubricant! This is not a new invention; the Romans already used olive oil to grease their intimate areas, and even believed that it worked as a contraceptive (surprise, surprise — it doesn't!). In China, Japan and Korea, carrageenan — a sticky substance derived from seaweed — was popular. Clove oil was also rather common, as it was believed to have analgesic and relaxing properties.
Leaving those homemade gimmicks to one side, in the 21st century, we have great lubricants available to us. They're subject to strict quality controls and are 100% body-safe. If you're into vintage stuff, get yourself a pair of bell-bottoms and a collection of vinyl records — but don't mess with your intimate area! Now, in our Online Sex Shop, we have all the lubes (and there are lots of them) from the leading brand of lubricants and skin care products in the industry. Pjur, with more than 20 years of experience behind them, only use natural ingredients of the highest quality in their lotions, sprays and serums (all 100% made in Germany — no exceptions). They sell these products in more than 70 countries on five continents. Endorsed by professionals and consumers alike, Pjur have a wide range of products to cover all needs — from lotions especially suited to sensitive skin, to products that delay climax and enhance the pleasure. 
Sensitive skin? Vaginal dryness? Water-based or silicone-based — Pjur covers all your needs.
Take our hand and let's glide together down Pjur's slippery pleasure slide. The first thing you need to know is that all their lubricants are dermatologically tested, fully compatible with all latex condoms and, although unflavoured, they're safe to ingest. But you don't have to drink them out of the bottle either!
Now ask yourself, what are you looking for? An 'all-rounder'? An exceptionally long-lasting lubricant? One for sex in bed and in the bath? Would you prefer a lubricant to get you started in the world of anal sex or for more vigorous activities? Something specially designed for women's sensitive skin which combats vaginal dryness and respects your pH? A massage lotion that transports you to the tropics? How about a vegan-friendly lubricant that's preservative-free and that's not been tested on animals? No matter your needs, Pjur has got you covered.
Pjur Original is the brand's best-selling lubricant and one of the most popular silicone lubricants worldwide.. Exceptionally efficient and long-lasting — just a few drops are enough for hours and hours of enjoyment. Perfect for an aquatic sex session, Pjur Woman is the perfume-free and preservative-free feminine version that cares for and protects sensitive skin. Would you prefer a water-based lubricant? As you may already know, water-based lubricants are more easily absorbed — leaving the skin soft and moisturised. All versions of Pjur Aqua and Pjur Woman Aqua (including Aloe, Vegan, Nude, Pathenol and Basic) will intensify your pleasure, facilitate penetration and deliver smooth and long-lasting experiences.
If you're getting all hot and steamy, how about a breath of cool air amidst the fiery passion of the moment? Pjur Cool, with its water and menthol base, will awaken your senses and heighten the feelings of pleasure. Go from cold to hot in a second. Do you want more intense orgasms? What a question! This product is designed exclusively for women — a spray that increases desire and boosts sensitivity in the clitoris. It produces tingling sensations and enhances climax. Enriched with ginseng, simply spray it a few times over your clitoris or the opening of your vagina and wait a few seconds. It's magical!
Beat premature ejaculation with Pjur
Do you want to last longer in bed? Available in lubricant, serum or spray form, Pjur have launched their Superhero range to make sex last longer and extend the pleasure. The best thing is that it only contains natural ingredients, with no use of local anaesthetics such as lidocaine and benzocaine, which are very common in similar products from other brands. You can use as much as you like as often as you like. It reduces the hypersensitivity of the glans penis with no numbing — for longer-lasting pleasure. Pjur Med Pro-Long will also help you overcome the dreaded premature ejaculation. Its formula, based on an active ingredient from oak bark and panthenol, has a desensitising and soothing effect. It'll be your closest ally in the battle against premature ejaculation.
The best lubricant for anal sex?
Get ready for the anal sex revolution. Pjur Back Door and Pjur Analyse Me — two lubricant collections with varying degrees of intensity that make anal stimulation anything but painful. Whether silicone or water-based, their highly concentrated formulas provide long-lasting and skin-friendly results. Simply apply it and get ready for penetration that'll be as smooth as silk. Stimulate first with your fingers or a small butt plug to encourage dilatation, and then surrender to pure pleasure.
How about starting off with a good massage?
Is there anything more erotic than a good massage? And Pjur have the perfect lotions to make the experience a real treat! Oil-free, non-greasy and enriched with vitamin B5 and jojoba oil — Pjur Spa ScenTouch brings together gentle skin care, a smooth texture and a subtle scent to make it all the more invigorating. The perfect precursor to a great evening (or morning — that's all a matter of taste and the time you have available). Want some advice? Let yourself go. As to how far, well — that's up to you!