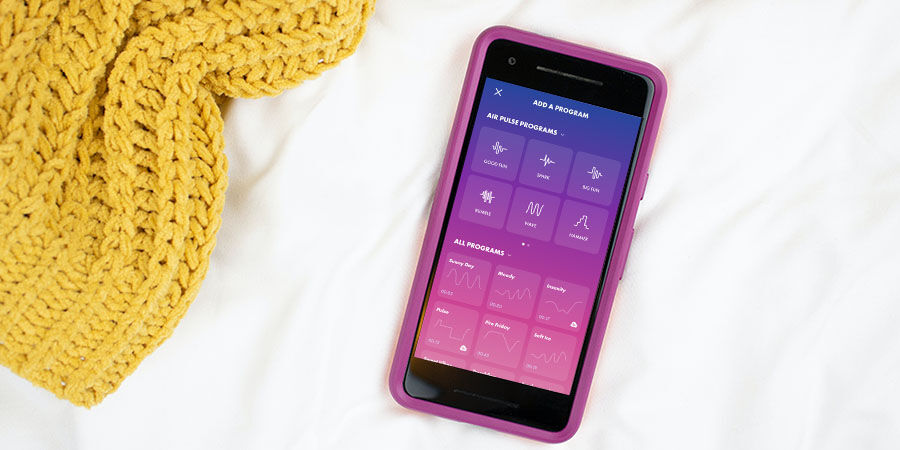 The libido is a basic driving force of our animal instincts. Like hunger and fear, it determines our habits and our behaviour. Why not fulfil the fantasy of handing over control to your partner? in Reach orgasm while dining out with friends and try not to reveal all the pleasure you feel inside. Why not add a spark to your foreplay and recapture the passion that made you both rush home when you first started dating? Why not enjoy sex with your partner if you live in different cities or even on different continents? Think about it all you want, but we challenge you to find a single argument against it.
We like to see, to touch, and we hope that never changes. Sex is an endless source of individual and shared pleasure and it's nothing new to say that mankind has been seeking it for years in the most unlikely of ways. This might not be a good example, but do you remember that famous American teen comedy and the scene with warm apple pie? How about a more recent example? In the film 'Call me by your name', one of the stars masturbates with a ripe, pitted peach. And, of course, you remember fidget spinners, right? Well, a couple of years ago, more than 2.5 million people searched Pornhub for videos featuring these very items. According to Rule 34 of the Internet, "If it exists, there is porn of it — no exceptions". Well, this rule can be easily adapted for the world of sex toys: "if the technology exists, there will be a sex toy of it". Yes, every new technological development will be transferred to the sex toy market to create new ways of pleasure, to establish new forms of contact, to make the kilometres of distance between two lovers as easy to bridge as sending a Whatsapp message to the other side of the world.
In this case, the industry is only trying to satisfy demand. Listen up, we're going to explain the key reasons why you should be enjoying long-distance sex and which toys are best depending on your needs and tastes. The world's top brands are well aware of the potential of these toys and they are constantly innovating in an attempt to produce the perfect product — the one that makes headlines, the number one best-seller, and the one that will really knock your socks off!
Why have long-distance sex?
Until science makes teleportation possible or technology allows us to immerse ourselves in a virtual reality in which we can feel first-hand everything our avatar is experiencing long-distance sex toys the only way a couple can stimulate each other without ever touching. Long-distance relationships are hardly a new phenomenon, but the pandemic and the imposed confinement have forced many people into a type of relationship they had not chosen. Unable to carress each other nor even see each other in person, they are only connected by zoom calls and emoticon-laden Whatsapp messages. And, if you can see each other without being in the same place, why not touch each other? Why not let the other person excite you, penetrate you — bring you to climax by controlling your toy's movements?
Over the last year, the purchase of sex toys that can be controlled using mobile apps from any distance has skyrocketed. However, being away from your partner is not the only reason to try them. According to recent studies, the use of 'teledidonics', i.e. using remote-controlled toys for sex, has become the most popular fantasy among women (men's is still the threesome, although they don't mind this one either!). The possibility of being able to using it outside and having a shared secret is often enough to make the excitement soar. It's also a great way to escape the routine and try new things.
And now, we don't want this to sound like we're exaggerating (because we're definitely not!), but we're going to mention another reason for using this type of toy — a reason that has even surprised us. When connected to an app, the vibration or suction patterns and intensities are no longer just preset; the app will allow you to customise the movements, synchronise them to your favourite music, to ambient sound, or to your lover's whispers. Quite a discovery. That's a promise. Masturbation has scaled new heights of sophistication that cannot be experienced in any other way — unless your partner has magical powers that we haven't heard about.
How do you use a remote control toy with your partner?
This is a difficult question to answer without first describing the different types of remote control toys available. First, let us make a distinction that we'll cover in more detail later on: There are toys that can be controlled through an app on your mobile or tablet and can be operated from any distance and toys with remote controls that work over shorter distances (the longer range ones usually have an operating distance of 10 meters).
Brands like Satisfyer, We-Vibe, Lovense, LELO o Picobong have developed apps for their products that are simple and user-friendly. You will have to download the application onto your mobile device and synchronize it with your toy via Bluetooth. Once connected, test it out on your own first. Create your own vibration patterns and choose the most suitable one for each given moment; decide the kind of music you want to synchronize your toy's movements with (maybe on Fridays you prefer to be stimulated by the Vengaboys and on Sundays by Black Sabbath). The possibilities are endless. You can chat using the app and invite your partner to control your toy.
Remote-controlled toys, such as the Tiani 3 or the LELO Hugo by LELO follow a similar process. Synchronize the toy with the controller and use its buttons to operate it. It's as simple as that.
Toys with app: the best for long distance relationships
If you're looking for a product that allows you to experiment at a distance of more than 10 metres, your only option is an app-controlled toy. Great; that should be an easy choice, you might think. But the truth is that it's not. There's a vast range on offer, so allow us to give you a helping hand. As we've already mentioned, the sex toy brands that include app-controlled toys in their portfolios are Satisfyer, Lovense, We-Vibe and Picobong.
You must first always ask yourself the same question: what type of stimulation are you looking for? Once you know this, choose the toy you want to buy accordingly. You'll find clit-suckers and clitoral stimulators, rampant rabbits and vibrators specifically designed to massage the G-spot, prostate stimulators, anal plugs, vibrating bullets and eggs, couple's toys, vibrators to place in your underwear... each one provides unique sensations.
Remember that the apps associated with each toy (Satisfyer Connect, Lovense Remote, We-Connect and Remoji) are free, safe, reliable and compatible with multiple platforms (iOS and Android).
Remote-controlled toys: perform long-distance challenges with your partner
Although remote-controlled toys are certainly worth using alone, we must admit that they are also the ideal toy for couple play. Few things are more exciting than fitting the toy, handing over the remote control, and stepping out into the street. The excitement, the feeling of danger, the intimacy, the need for secrecy, the need for neither of you to reveal what's really going on... all contribute to creating an exhilarating erotic experience.
In the queue at the supermarket, at the cinema, on the plane or at dinner with friends. Challenge your partner. How long can they last without moaning or rushing off to the bathroom. Can they carry on a conversation on the phone while the stimulation grows and the pleasure overflows? We can't think of anything better to break out of the routine and to keep the passion alive.
Brands such as LELO, Satisfyer, Liebe or We-Vibe have incorporated toys that can be operated with a remote control into their catalogues. At EroticFeel, you can find everything from toys for couples to anal plugs and prostate stimulators — not to mention vibrating eggs, bullet vibrators and panty vibrators. For all tastes and moments.
Which remote control toy can I use with my partner?
Technology is on your side when it comes to pleasure, but there is still a lot to think about. The good news is that there are plenty of toys that can be used at any distance and the best thing to do is to compare your options and choose (or try them all — that's our favourite option!). If you're looking for recommendations, here are a few.
The term 'remote controlled' refers to any toy that you can control without touching it directly, either via a handheld remote control or via an app on your mobile phone. How about a vibrator designed to seek out and massage your G-spot? Compatible with We-Connect, silent and very sophisticated — the We-Vibe Rave perfectly fulfils its function by going where no other device has ever gone before. Another good alternative? The Osci 2 by Lovense. Pay attention because it has a patented oscillating function that can hit your G-spot with force or with the utmost gentleness. Wonderful!
If you prefer a rampant rabbit that simultaneously stimulates your G-spot and clitoris for double pleasure and a unique orgasm, you may opt for the Satisfyer Mono Flex (compatible with Satisfyer Connect, stretchy and very soft). Alternatively, there's the Lovense Nora: a state-of-the-art rampant rabbit that can be synchronised with the Lovense app, another Nora or a Lovense Max male masturbator. Finally, there's the We-Vibe Nova 2 (so ergonomic and flexible that it adapts perfectly to each of your curves and flexes with you). Translated with www.DeepL.com/Translator (free version) It's a tough choice.
The Lovense Lush stands out in the category of vibrating bullets and eggs. At EroticFeel you will find Lush 2 and the improved Lush 3, both compatible with the Lovense Remote app and boast the perfect ergonomics to hug your body. It embraces your body without moving while stimulating your G-spot. Moving on to Lovense Ambi — this small, precise and powerful bullet vibrator is the most versatile one on the market. It's ideal for making your public sex fantasies come true!
What about remote-controlled vibrators for couples? These toys are designed to stimulate the clitoris and the inside of the vagina while providing extra pleasure for the man during penetration thanks to the increased feeling of tightness. Here, you have a wide choice: the Satisfyer Double Joy, the We-Vibe Jive, the We-Vibe Match and the We-Vibe Unite 2. 0 (these last two have remote controls). There's also the LELO Tiani 3, which also has a remote control but with the addition of SenseMotion technology (just move the remote control at the speed and in the direction you want to feel the vibrations).
Remote controlled clit suckers
Those much praised clitoral suckers that surround your clitoris without touching it and stimulate it with powerful air waves can now also be controlled remotely. The Satisfyer Curvy or the We-Vibe Melt can be connected to an app that you can download to your mobile device for free to create infinite suction patterns, synchronise stimulation with your favourite music or cede all control to your partner. But if you prefer a remote-controlled clitoral vibrator rather than a clitoral sucker, there's the small and powerful Satisfyer Love Triangle. It's also compatible with Satisfyer Connect and will gently massage your clitoris with different modes —ranging from the gentlest of tingles to the most intense of pulses.
Panties with Remote Control
Finally! We come to one of the most sought-after erotic items of all time. These are vibrators designed to be placed in your underwear and attached with a magnet so that they don't move while you walk, jump, or do somersaults (whichever you prefer!). Some are remote-controlled, like the Liebe Panty Vibe, others can be synced to a mobile app or controlled via a remote control, like the We-Vibe Moxie. Finally, there are those that connect to the brand's own app and can be controlled from any distance (like the Satisfyer Sexy Secret or the Lovense Ferri). With app-controlled toys, it doesn't matter if you're at the same table or in different parts of the world.
Male masturbators at a distance
Yes, there are also male masturbators that can be controlled from any distance; or did you think that sex toy brands were going to forget about half of the planet's population? In this category, you'll find vibrating rings that will boost your erection and delay orgasm, making it much more intense (Satisfyer Royal One, Mighty One, Signet Ring y Strong One, PicoBong Remoji Lifeguard and We-Vibe Verge). There's also prostate stimulators designed to comfortably massage your P-spot and your perineum at the same time (Lovense Edge, We-Vibe Ditto and We-Vibe Vector).
If you're looking for a more traditional masturbator to wrap around your penis and stimulate it, go for the revolutionary Lovense Max 2. It can be controlled remotely via an app, synchronised with another Max 2 or the Lovense Nora rampant rabbit. Picobong have also launched the Remoji Blowhole — a male masturbator that stimulates the tip of your penis with its six different powerful vibration modes that can be controlled via your mobile phone.
So... Which remote control toy is right for me?
Seriously?! If the answer were that simple, we wouldn't have written an article of more than 2,000 words! Before enjoying yourself, do a little work: take a look around and read (even if it's only out of the corner of your eye) about the different types of remote-controlled toys that exist before embarking on the adventure. As always, it depends on the kind of stimulation you're looking for. We've done our part, now it's your turn. We guarantee you that the rewards will be wonderful...