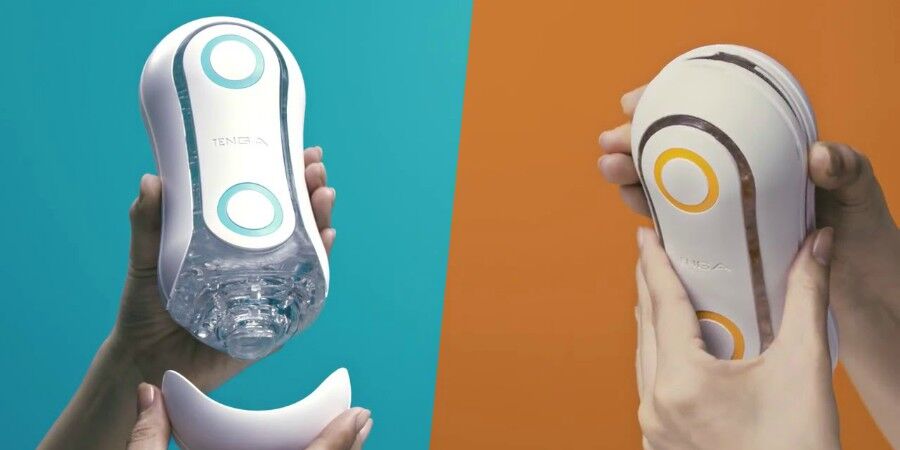 Flip Hole, Flip Zero… Flip Orb!
Tenga takes you to a new dimension of pleasure with the new range of Flip masturbators. Like their predecessors, the Orb can be folded and unfolded to ease the lubrication and their cleaning. Even though they are not electronic, these masturbators have a panel with which you can play to change the inner pressure, experimenting new feelings. We cannot forget the fact that, with a proper maintenance, they are reusable, so they can be used as many times as you wish.
But then, what is special about the Tenga Flip Orb?
Their shape of an hourglass and their colours. Yes, you have read correctly. And now you'll see the point.
Doesn't the colour blue awake a feeling of serenity and calm in you? Maybe it reminds you of the sea depth? What does the colour orange suggest to you? Doesn't it awake your bolder side? Tenga Flip has its reasons for having chosen these two opposed tones, one cold and other warm, for the design of the Flip Orb masturbators. And if you believe that the Japanese brand has only wanted to consider your taste in colours, without trying to go beyond that, we'll inform you that you are wrong.
At first sight, they may seem similar, but the difference between the Flip Orb Blue Rush and the Flip Orb Orange Crash is on the inside. Both masturbators have several rows of orbs in polycarbonate, strategically placed and covered by soft elastomer. However, what distinguishes these two versions of the Flip Orb is the texture of that layer of elastomer. While the Blue Rush has countless wavy ribs, ideal for those who like softer sensations, the Orange Crush has infinite nubs, so it is perfect for those who love strong feelings. Do you still think the colour choice is accidental?
At EroticFeel you will find this incredible novelty of Tenga, only available at Asia and Europe. So, don't try to resist! We do know you want to try them and see how that feels.