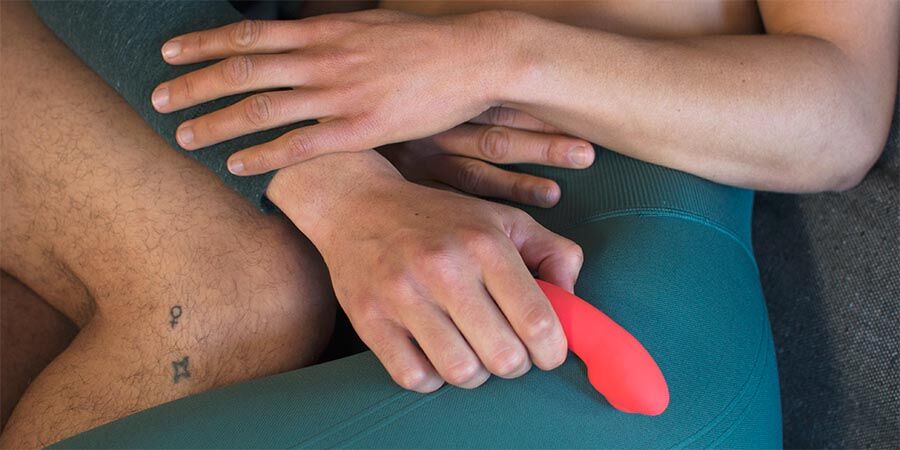 Sometimes the bullet searches for you, and sometimes you search for the bullet. If you've already experienced its pleasures, you'll know just what we mean. In short, vibrating bullets are small vibrators that are shaped like projectiles — hence the name. They offer countless advantages and using them, as we'e about to explain, is extremely simple. What's more, they provide the perfect example of how size doesn't matter when it comes to pleasure. And we repeat: size does not matter — neither a bigger vibrator nor a colossal penis, by the mere fact of being 'large', will provide more sexual satisfaction. For women, the most sensitive parts are the clitoris and the first third of the vagina. Among men, it's the the glans penis, the perineum and the P-spot (located next to the prostate and best stimulated with a prostate massager). Well, the P-spot aside, vibrating bullets are the perfect tool for stimulating the most erogenous zones of one's anatomy to the point of delirium.
Much has changed since the first sex toys were designed — those large, unwieldy, phallus-shaped dildos. Computers also once took up a whole room, and mobile phones were shaped like bricks and weighed as much as a carton of milk. Listen up because everything you need to know is in this article. "Give us a clue!", we hear you say, "are they for women, for men, for solo and partner play? ". Well, let us explain — you'll be very pleasantly surprised!
What is a vibrating bullet used for?
It's a sex toy, and, indeed, one of the most popular ones; its only function is to give you pleasure. Some can be inserted into the vagina (such as the new Drift with warming function by Lora DiCarlo, the Ambi by Lovense or the Romp Beat) and others are designed for external massage only (such as the Sweet Vibrations Bullet by Bijoux Indiscrets or Tango X by We-Vibe). Nevertheless, they all deliver precise stimulation to the major erogenous zones.
Bullet vibrators can serve to increase arousal during foreplay, to provide the perfect side dish during intercourse, or as the perfect finale to the sensual festivities! By following the right path and stopping at the right spots, orgasm will follow in a matter of minutes. Stretch this pleasurable journey out for as long as you'd like the pleasure to last. If you need a step-by-step guide on how to use it so you can experience all the heavenly joys it has to offer, then read on. We'll explain how to go about seeing the stars without ever leaving the comfort of your own bed.
By the way, and before we forget, vibrating bullets are good for almost anything — but not for anal penetration. Any anal toy must have a safety stopper and bullet vibrators do not. Take it from us — It's not much fun to have to cut short your sexy session so a trainee doctor in your local accident and emergency hospital can remove a toy that's got lost in your bowel.
What advantages are there to using them?
Bullet vibrators don't usually measure more than 10 centimetres (around 4 inches). Equipped with powerful motors, they are able to vibrate just as intensely as the largest vibrators on the market. Indeed, most of them allow you to adjust the intensity to tailor your stimulation, and they are the most discreet sex toys available. More advantages? Of course! You can carry it with you everywhere; put it in your pocket, handbag or make-up bag — it hardly takes up any space. They can be used alone or as a couple and their shape and size makes them ideal for stimulating a range of different erogenous zones. Want more benefits? There are vibrating bullets of many types: bigger ones, smaller ones; rechargeable, waterproof and remote-controlled ones — even ones that work with apps so that your lover can bring you to orgasm from the other side of the world!
How do vibrating bullets work?
Vibrating bullets are incredibly user-friendly. Of course, we recommend reading the instructions when you receive yours because the way each ones is operated may vary slightly. Nevertheless, they all feature a power button which, in many cases, also serves to increase or decrease the intensity of the vibrations. Others also provide a + and - button to cycle through different patterns and speeds. Just turn it on, apply a little water-based lubricant to enhance the sensations and facilitate glide. Let its tip run along your body, stopping at your favourite spots. You can't get lost, no matter how many turns you make, you will eventually reach your destination.
Battery-powered or rechargeable
Although most of the vibrating bullets you'll find at EroticFeel are rechargeable and include their own charging cable, some are battery operated, such as the Bijoux Indiscrets vibrating bullet, the Fifty Shades of Grey vibrating bullet, and most of the Rocks-Off bullets. Both rechargeable and battery-powered devices have their own loyal followers. The good news is that neither the intensity of the vibration nor the pleasure you feel is affected by the kind you choose.
For remote use
Yes, some bullets can also be operated with a remote control or with an app on your mobile phone. Cutting-edge tech has been incorporated into adult toys to enhance your pleasure and to strengthen your long-distance relationships. No more video calls that are supposed to be sexy but just end up being embarrassing. With the Ambi bullet from Lovense, for example, your partner will be able to stimulate you from two feet or 2000 miles away. Now there are no frontiers! How about spicing up your sex life with the Lyla 2 bullet from LELO? Lie back and surrender control. You'll be taken to ecstasy without touching yourself.
For solo or couple play
Everything is more fun with a vibrating bullet in the middle. We believe that you can use any sex toy with a partner — even those that are specially designed for men or for women. This is especially true when it comes to bullet vibrators. Use it to awaken your partner's desire and stimulate each of their erogenous zones. Let it stimulate the nipples, clitoris, testicles, perineum, vaginal lips — anywhere you can think of. You can both enjoy an amazing erotic adventure with the desire and your bullet vibrator as your only guides.
How to use a vibrating bullet — step by step
If you're a man, they are perfect for directly stimulating the testicles or the perineum (where a multitude of nerve endings are located). Want a tip? Combine manual stimulation of the glans penis with stimulation of the testicles and perineum with the tip of the bullet vibrator — the climax will be both intense and completely unstoppable!
And what about her? There are few more effective toys for female masturbation. All the vibrating bullets that you'll find in EroticFeel's online sex shop boast different intensities and even varying vibration patterns. Start with a gentle one and caress your earlobes, working your way down your neck and nipples. Don't rush; eating a sandwich in front of your computer in fifteen minutes for lunch is one thing, but not even having time to enjoy yourself before reaching orgasm is something else entirely. Now slowly work your way down over your belly to the inside of your thighs. Do you feel the tingling, your blood rushing, your mind clouding? Perfect. It's now time to move up to her vaginal lips, to roam around them and make circles around the clitoris. Your desire will tell you when to gently rest the fine tip of the vibrating bullet on your clit and let the whole universe come to a stand-still.