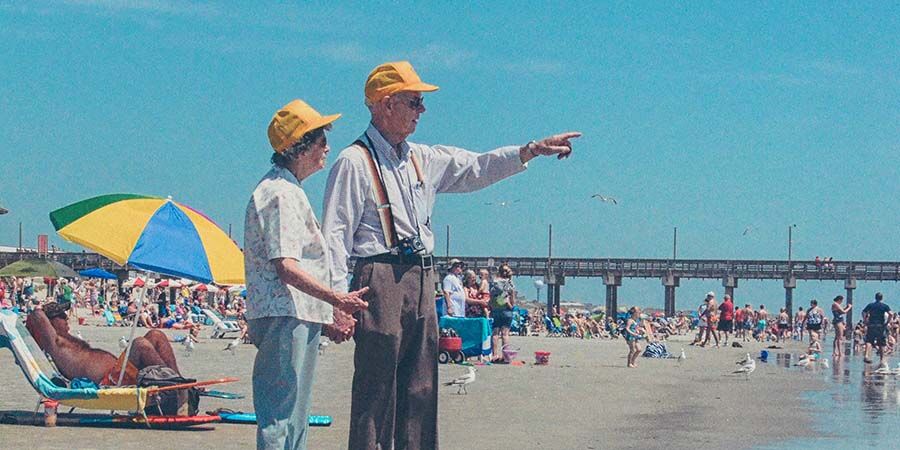 Pornhub, porn300, xvideos, spankbang... no, we haven't gone crazy. Just Google 'sex on the beach' and boom — it's all porn videos! A bit like when you settling down to a sci-fi movie you've just downloaded from eMule and wham — it's Star Whores and the Phantom Penis!
As it turns out,  in that version of 'Star Wars' Obi-Wan Kenobi's huge sword was not actually a laser.
Now, the sheer abundance of 'blue movies' with a seaside theme only serves to back up the results of a survey about sexual fantasies by condom company Control. It found that 55% of people between the ages of 18 and 35 years old are turned on by the idea of doing it on the beach. The sun, the sea and the risk of getting caught make it an exciting and powerful erotic fantasy. Nevertheless, we hate to be killjoys— but we should really point out the cons as well as the pros. The reality might turn out to be a far-cry from the image portrayed in Hollywood movies —like that of Deborah Kerr and Burt Lancaster caught up in a passionate embrace as gentle waves lap up against their naked, sunkissed bodies in the romantic drama 'From Here to Eternity'.
As you may already know, sand can be a particularly tough cookie — rough and coarse, it'll quite literally take you weeks to get it out of the unlikeliest places. Sea water will also prove to be a barrier to smooth penetration, and make sure you keep out of sight of any onlookers — especially those fans of next-gen waterproof phones or Go-Pro headsets. Failure to do so, will ensure that your naked ass will end up on Youtube forever!
Although you should keep these little things in mind, please don't feel discouraged! That's not what this article is about; we just want to help you prepare to reenact this erotic fantasy with the right expectations and in the right way. Make no mistake, sex on the beach can be a unique, thrilling and unforgettable experience.  Let us give you a few tips to make things as simple (and lubricated!) as possible. Now, don't be put off — we just want to help!  Make no mistake — sex on the beach can be a unique, thrilling and unforgettable experience.  Let us give you a few tips to make things as simple (and lubricated!) as possible. The key? Turn everything into a game. It's nothing like doing it in the comfort of your own home. You might not be able to finish off the encounter with penetration; you may well have to scarper when you see other bathers approaching. Forget about your normal routines — everything is new.
Sun cream: perfect for an erotic massage.
You arrive at the beach, lay out your towels and it's time to apply sunscreen. Do it carefully, gently and all over your partner's body — leave no bare skin untouched. This is the perfect time for caresses and cuddles (without going overboard!). Don't make a spectacle of yourself if there's a family nearby making sand castles. Look for a secluded place and keep in mind that this is the beginning of something that you'd better finish off someplace else. If you stay on the beach, the cream will only help the sand to stick to your body. So, when you can no longer take the tension — get in the water! 
Erotic bathing: ideal foreplay
You'll experience things in the water that are impossible to feel out of it, such as weightlessness, poor balance and varying sensitivity to caresses. Enjoy it all because penetration or full sexual intercourse may be difficult to perform. So, it's not about reaching the destination but about enjoying the journey — the caresses, the kisses, the licks and the motions. 
Just in case you were wondering, no — the sea water won't lead to yeast infections and won't have any negative effects on your sexual health. Yes, you may use lube in the water, although you should choose a silicone-based lube to prevent it from being washed away. 
And indeed, you may (and should) use condoms underwater. Admittedly, it may be more difficult to put it on or keep it in place, but today there are condoms designed both to be compatible with silicone lubricants and guarantee maximum hold and comfort in a range of situations. Want a tip? If you think penetration may occur, put on the condom before you dive into the sea. 
Sex toys to enjoy in the sea
Sex toys always come the rescue! Now, it's true that you may not be able to have full sexual intercourse in the sea and the sand will probably make you start missing your own soft bed sheets. But there's a simple solution — a sex toy, which after the massage and the bathe, will take you to aquatic ecstacy. So, what sex toys are suitable for the sea? Well, any sex toy that is 100% waterproof, and fortunately for you, there are clitoral suckers, rampant rabbits, vibrators, masturbators, prostate stimulators, cock rings, and butt plugs that are totally submersible.
Don't want to attract attention? Choose a discreet toy and don't start it up until you're underwater. No one will see or hear anything. Fun and frolics are guaranteed. Just wait until your friends ask you what about your holidays!