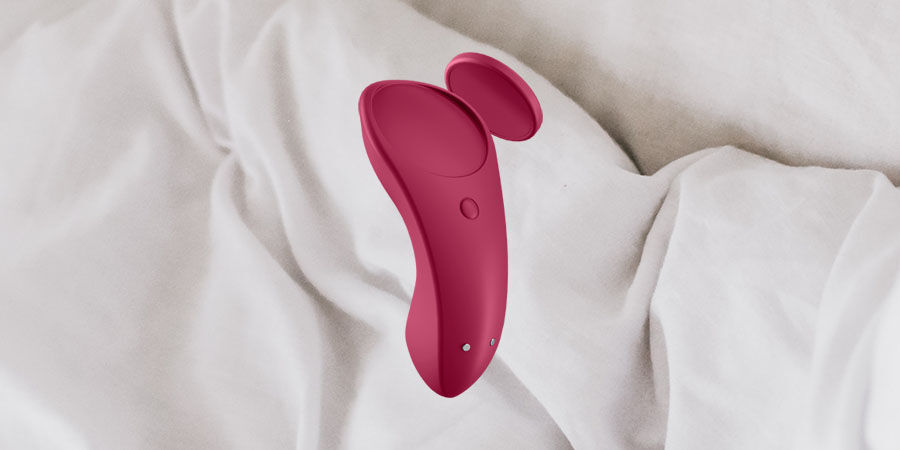 Don't go parachuting, don't go swimming with sharks, and don't go deep sea diving; if you're looking for real adventure, put on some vibrating panties or place a vibrator in your underwear. Cede all control to your partner and get out there. Meet friends; go to the cinema, a restaurant or a job interview (now that's extreme risk), and try to restrain yourself while someone else controls the vibration patterns. Perhaps you can still hold back with a gentle tickle caressing your clitoris, but will you be able to keep the conversation going when the wildest vibrations begin surging through your body? Will you be able to handle it? Will you be able to keep your composure as you feel the orgasm approaching? It's a real challenge — but not like running on an empty stomach — this one is seriously fun!
If you're someone who never says 'no' to a challenge, if you can't stand the idea of doing the same boring thing everyday, if you flee from routine and thrive on adventure — this is the opportunity you were looking for. Danger is always exciting, and the only danger here is getting caught! At EroticFeel, we believe in joy for all, and these vibrating panties will give you plenty of it. Get out of that comfort zone and add a little spice to your life.
What are vibrating panties?
We could say "the eighth wonder of the world" and be done with it, but let's go into more detail. Vibrating panties are small, discreet vibrators that slip into your underwear. How? Some designs, such as the Liebe Panty Vibe come with panties that have a pocket to hold the toy. Others, such as the Sexy Secret by Satisfyer, have a magnetic head that clips onto your underwear. Nevertheless, they all have one feature in common: they can be controlled remotely. That's the key, because if you're at a dinner party, you're not going to be able to change the vibration patterns in full view of everyone. That's why some types are controlled with a remote control with an operating range of several metres and others can be operated from anywhere in the world using a mobile app.
You can use them alone or with a partner, in public or in private (although, let's not kid ourselves — it's much more fun outside of the house!). Vibrating panties stimulate the outside of the vagina and clitoris through different vibration modes. Not that we're really concerned about fashion — but they've become the latest craze in the sex toy industry. Millions of people can now indulge their fantasy of stimulating and being stimulated while surrounded by others.
How do you use them?
That's the best bit — using vibrating panties is really simple. There are no complex devices with instructions that are more difficult to figure out than the electricity bill. Simply place the vibrator in your underwear. As we've mentioned, some vibrators come with panties that have a pocket and others feature a magnetic clip or lid that secures the vibrator to the fabric. This ensures that the vibrator stays in place no matter how much you move around. Once it's in place, simply switch it on and connect it to the app or remote control. Remote controls have buttons that you or you or your lover can press to switch vibration modes and intensities.
To use an app-controlled panty stimulator, you'll first need to download the app to your mobile device. All apps are free and compatible with iOS and Android. If someone else is going to control the toy, they'll also need to download the app and then wait for you to invite them to participate. Don't let all this technology faze you; once you turn the toy on it'll pair to any phone that stays within Bluetooth range — you just have to invite whoever you desire.
The numerous available applications enable you to create infinite vibration patterns, customise and synchronise stimulation with your favourite music, and even with ambient sound or your lover's whispers.
Tips for using them with your partner
Vibrating panty stimulators are the perfect toy for couples. The secrecy and shared excitement not only enhances the erotic experience, it also boosts intimacy and is a whole lot of fun! Once the vibrator is turned on, the games begin. Could your partner suddenly surprise you in middle of the street? Could the vibrations build in intensity and leave you speechless? Could they suddenly stop just as you're about to orgasm?
You know what they say: the couple that plays together stays together!
Satisfyer Sexy Secret: the best panty vibrator
Yes, it's true; we all have a favourite and the Sexy Secret by Satisfyer is ours. Tiny, discreet, silent and ergonomic; it fits comfortably against your body and contains a motor that will leave your legs shaking with excitement. Place it between your genitals and your underwear, and turn it on by pressing the button underneath the magnet for a couple of seconds (you can't miss it — there's only one!). Connect it now with the free Satisfyer app to find out how good it is. Control it yourself or hand over control to someone else; thanks to the app, they can do it from the seat next to you or from Russia with love.
Waterproof, rechargeable, hypoallergenic and extraordinarily powerful, you won't find another panty stimulator that offers better bang for your buck!. From now on, you'll never feel too tired to go out into the street again!