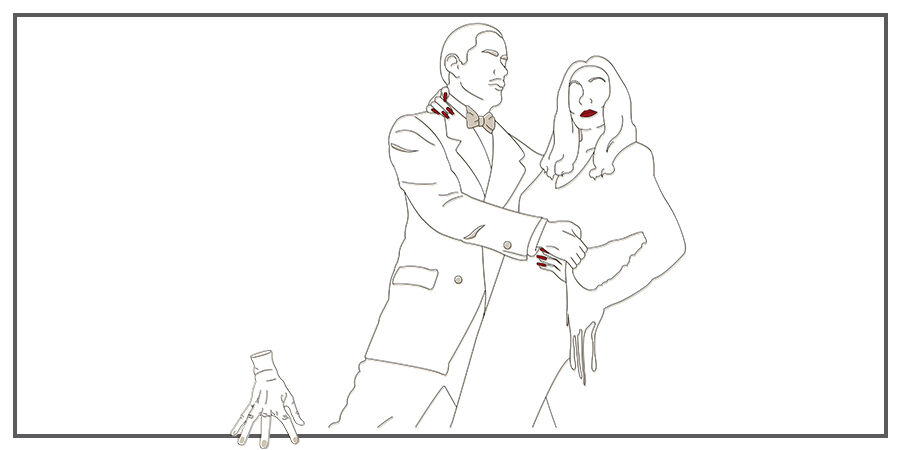 "When we're together, darling, every night is Halloween". If we put it into context, it is probably the most beautiful declaration of love that has been made in the cinema so far. We talk about Morticia and Gomez Addams, the first passionate married couple of television. They do not greet each other every morning at breakfast with an absent-minded kiss on the cheek, as if they had not spent the night sharing the same bed. For the first time it is not necessary to choose between nuns or whores, because she does not fit in any of the standards. A powerful, clever and highly sexual mother. It is enough that Morticia says a few words in French to drive Gomez crazy with desire.
"Look at her. I would die for her. I would kill for her. In any case, what a pleasure!", he says as he stares at her at the beginning of the first film. Before that, in 1964, the TV series The Addams Family had already overcome the limits of television of the time. Arousing dances, risqué sentences, smiles of complicity and unsubtle insinuations about masochistic practices. Why did the censorship of the time permit this sexuality show for all audiences? Surely because they were crazy and strange. Certain inappropriate behaviours could be permitted to this dysfunctional family. "Gomez, do not torture yourself, that is my job", she says to him. "Normal" couples did not have to worry. There was no reason to feel uncomfortable.
"Last night you were out of control, you were howling like a desperate demon. You scared me. Do it again!"
But apart from spider webs, children who try to kill each other, and hands that run through the house without a body, it was comforting for a whole generation to see that sex was not only a part of life, but also a part of family life. Because before (and also after) Morticia Addams, the female body was already a cause for suspicion. Elderly women with a hunched back and a large hairy wart, or young ladies of extraordinary and evil beauty. In any case, apart from the patient and grateful wife, the tender marriageable girl, or the kind and solitary spinster, there were just two types of women, and both incarnated the sin. Monstrous creatures of wretched nature, witches, vampires, Sirens or harpies. Revolutionary women who organised covens and ended up dancing naked and having sex with each other or even with the devil himself. What a cheek! (And also, in the form of a billy-goat, which lent the situation a zoophile touch that made it more believable).
And suddenly came Morticia with her tight and low-cut dress, her red lips and her long nails. A seductive, exotic, educated and sophisticated vampire that radiates sensuality from all sides. Despite the children, the mother-in-law, the weird uncle, and the lanky pale butler, she and Gomez never pass up the chance to show each other (and to show us) how much they attract to each other. The seduction that captivates them is demential. "Last night you were out of control, you were howling like a desperate demon. You scared me. Do it again!", she says to her husband in the morning.
Glances, caresses, kisses, words, games and a lot of sex. Have it, plan it, remember it. This is our suggestion for Halloween night. Get under the covers and tremble with pleasure rather than with fear. And tomorrow? Do it again. Every day. So that you can say on the following year: "When we're together, darling, every night is Halloween". Any time is good for dancing. Trick or treat?