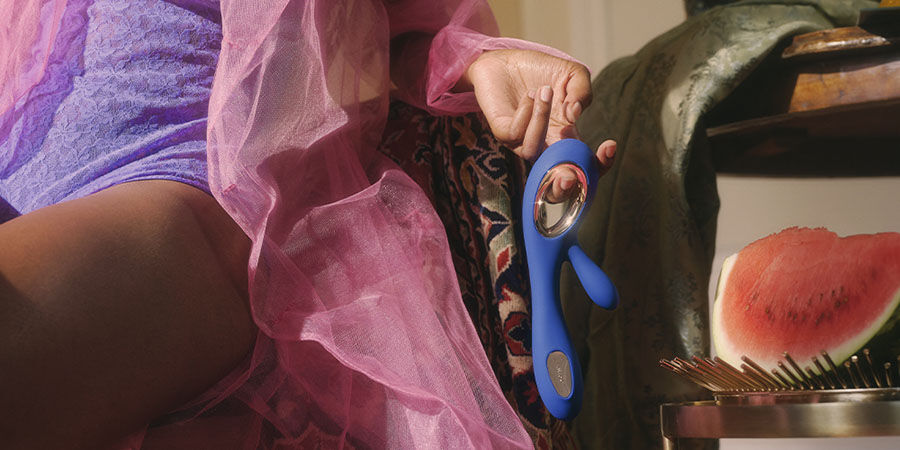 Soraya, light of my life, fire of my loins. My sin, my soul. So-ra-ya. Don't accuse us of plagiarism — at EroticFeel, we feel real devotion towards LELO. But with the Soraya Wave it has been love at first sight, at last sight, at any sight. That's why we can only use the words of the classics to express it. Because there are brands that change the way we interpret the world, brands that tell the universe who we are without the need for words; brands that manage to create something timeless, revolutionary, immortal. If Karl Lagerfeld were asked again today about things that never go out of fashion, his answer would be slightly different: "jeans, the white shirt, and the Chanel jacket... and the Soraya Wave by LELO." And, how does one know that this love for the Soraya will not die with the next, new release? Because you know when you've found the perfect design — the one that you could show to your most discerning visitors without fear of criticism. Well, that design has been combined with technology that makes this toy sway inside you — emulating the movements of the most experienced lover. The only thing that could improve upon the experience of using the Soraya is if Warren Beatty from 'Splendour in the Grass' or Sofia Loren from 'Yesterday, Today and Tomorrow' were recreated in the flesh there and then. But there's still a long way to go before that happens.
Much time has passed since those initial rampant rabbit days — the ones that drove the prudish Charlotte from Sex and the City crazy with pleasure In the early days of sex toys, those dual-action vibrators that simultaneously stimulated the inside of the vagina and the clitoris were a huge success. It's little wonder, considering where we came from. Those huge, monstrous plastic penises of yesteryear could barely bring most women to a nervous giggle — never mind an orgasm. Years went by and finally, the clitoris was included as part of the pleasure equation. At last, we were heading in the right direction. The designs and motors that gave an inert product the right vibration were eventually perfected. And, then came LELO. A talented team of creatives and engineers were deployed for something that had never been achieved: the creation of luxury toys and accessories to enrich your intimate life, sexual wellness devices that you wouldn't have to keep in the bottom drawer of your wardrobe and playmates that could be used alone or in the best company. Their goal was to turn pleasure into art.
So, here we are now — talking about a toy that is much more than that . It's a friend who when you're down, arrives at your door with wine, chocolate and a big dollop of juicy gossip. It's a film that reconciles you with life; a song that you listen to on a loop and never tire of; an attentive and delicate lover who also knows how to make your bed shake like a sailor on leave. It's the knowing smile that tells you that you're not alone. Soraya Wave owes its name to the WaveMotion technology patented by the Swedish company. So, what's it used for? Plenty. The insertable part will move inside you, oscillating, with a swaying motion that emulates the strokes of the most accomplished lover. You know well that those other toys that resemble a jackhammer drilling through concrete only lead to boredom, frustration and even irritation.
Flexible and ergonomic — this jewel adapts seamlessly to your body's curves, rests vibrantly on your clitoris, eases its way along the most sensitive spots in your vagina and massages your cherished G-spot. Boasting eight different vibration modes, it's made of the highest quality medical-grade silicone. It's 100% waterproof and completely rechargeable with 2 hours of autonomy at maximum power. Soraya Wave delivers comprehensive, absolute, unadulterated, pleasure. With LELO there's no room for 'maybes' and no orgasm is left to chance.
If you need more proof, this is how sexologist and writer Valerie Tasso describes it:
I've always been an aesthete. But, above all, a great hedonist. And both concepts, at least for me, have to go hand in hand when it comes to objects of pleasure. Soraya Wave, LELO's latest release, combines both characteristics.
When the brand released the first version of Soraya, an intimate massager, its design broke radically, at the time, with the concept of what we considered to be vibrators. Attracted by the beauty of its lines and its great resemblance to a sculpture, I couldn't wait to get hold of it.
Now, LELO has given it another twist by incorporating its patented WaveMotion technology, as well as redesigning its ergonomic shape.
Soraya Wave does not only stimulate the external part of the clitoris with its vibrations, but it also stimulates the G-spot internally. And not only that; the part that is inserted into the vagina uses WaveMotion to imitate the "Come hither" finger movements of an expert lover. This redesign and technological innovation promises each and every woman who uses it unparalleled orgasms.
Everything about Soraya Wave is perfect: its handle is made in such a way that it allows you to operate it in total comfort and you can easily get to the intensity and vibration modes buttons with just one hand.
It's versatile because it can stimulate the external part of your clitoris, the front wall of your vagina (G-spot), but also, like most LELO pleasure objects, you can use it elsewhere on your body for a great massage that will make your hair stand on end and increase your arousal. For the more daring, Soraya Wave can also be used for anal pleasure.
For me, it's one of the best things I've tried because — by stimulating the clitoris both externally and internally (the G-spot) — the pleasure is twice as intense.