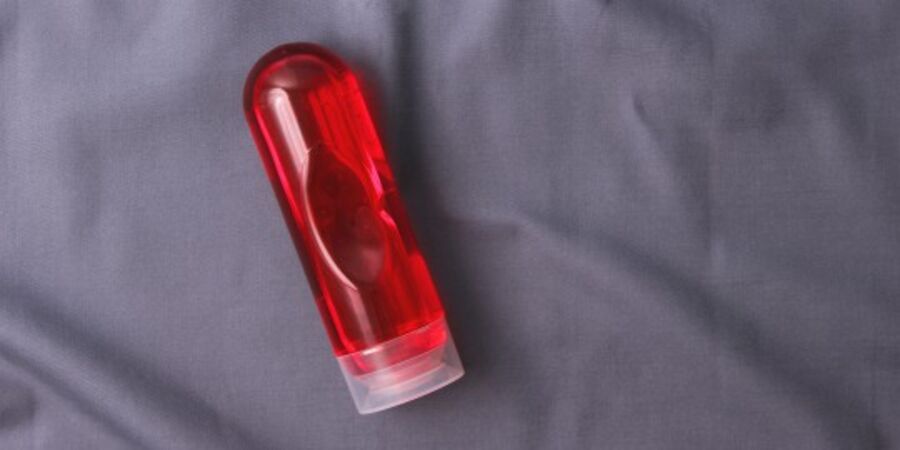 Do you remember that scene in 'The Last Tango in Paris' where Marlon Brando uses butter as a lubricant? Well, leaving aside the controversy, and how disturbing and unsettling the scene is — be warned: this is not a good idea. Nor should lubricants be confused with moisturisers — they are used for very different purposes. Vaginal or anal dryness is one of the most common problems encountered during sex. Whether it's linked to your menstrual cycle; because of particular health issues issues; as a result of using sex toys; or simply because as a woman gets older, she produces less natural lubrication — there are many reasons why the use of lube becomes essential. Pain, discomfort or unpleasantness are words that don't go well with sex. Needless to say, lubricants don't only prevent painful experiences — they also add extra comfort and increase the pleasure you feel. What more can you ask for?
Now, here comes trouble... Silicone-based, water-soluble or water-based; oil-based, flavoured, gluten-free, vegan, climax-delay, warming or cooling, with ginseng, with aloe vera, with paprika... The choice today is huge and this can feel quite overwhelming! What's more, you don't just have use lube on its own, it can also be combined with sprays and serums. These products don't only nourish your skin and hair, they also pamper your intimate area. Now, don't get overawed and let's glide through the specific characteristics of each one.
Always opt for tried and tested brands. As the old adage goes — you get what you pay for. First of all, a good lube should provide a long-lasting effect; and if you're having protected sex, it must not damage the condom. Here, both silicone-based and water-based lubricants meet both these requirements. So, ask yourself: what are my needs?
Water-based lube or silicone based lube? It depends
Silicone is a heat conductor, i.e. it is activated by rubbing, and has an extremely long-lasting effect. It's much more durable than water-based lube, which by its very nature, ends up evaporating. If you fancy sex in the pool, in the bathtub, on the beach or in the jacuzzi — silicone lubricant is the best choice for your aquatic play. Its density also makes it more suitable for anal sex and its texture makes it lovely for masturbation.
And thanks to its versatile formula, it's not only perfect for sex and masturbation — but you can also use it as a massage gel. You decide where it ends up!
If you intend to use it with sex toys — be careful. Although there are always exceptions and some specialist brands do permit this, most silicone lubricants are incompatible with toys that are also made of silicone. However, don't confuse silicone-based lube with oil-based ones — which will damage condoms.
Water-soluble lube is the best choice for hydrating and protecting the skin at the same time. It's also the best choice for dry and irritated skin. It's less sticky, absorbs faster and is easier to clean. Our advice: if you're looking to get pregnant, experts say that water-based lubricant is more 'sperm-friendly' than any other kind.
What's more, this type of lube is suitable for use with any type of sex toy and is recommended for women with certain conditions that can affect the mucous membranes. Although in the past the glycerine found in these lubricants was of animal origin and could cause cystitis, fungus or infections; it has now been replaced by vegetable-based glycerine — which is chemical-free and 100% body-friendly.
Water-based lube is a great choice for vegans and for those who are against testing on animals. They are 100% free of animal products, gluten-free, paraben-free, preservative-free and pH balanced.
Water-based lubricants
Pros: Among its advantages, water-based lubricants are the ones that most closely mimic natural lubrication. They're most suitable for sensitive skin that's prone to irritation, and the most appropriate if you're trying to get pregnant. Finally, if you're looking for a lubricant that's compatible with latex condoms and any kind of sex toy — there's no better choice. In addition, they're easy to remove, don't stain or become sticky; and unless otherwise indicated, they're edible.
Cons: although the disadvantages are few and far between, water-based lubricants also have some drawbacks. For example, they're absorbed rapidly — so if you're planning an extended session, you'll need to reapply several times. This factor could make them less appropriate for activities such as erotic massages. They're also water-soluble, i.e. they wash away with water. This is great for cleaning up, but a killer if you want to have sex in the water.
Silicone-based lubricants
Pros: silicone lubricants are very durable and do not wash off easily — making them perfect for anal sex as well as sex in water. Their durability means that you are much less likely to have to reapply than with other lubes, so they're great for long love-making sessions. They're also the best choice if you're looking for a multi-purpose lubricant — being ideal for anal sex, vaginal sex, and also for erotic massages.
Cons: One drawback when it comes to using silicone lube is that it's not usually edible (unless otherwise stated). It's also incompatible with the use of silicone toys — as they can damage the material. Finally, it's not nearly as easy to clean off as water-based lube.
Sprays and serums — what are they?
It seems that the purpose of sprays and serums is much less well known than that of lubricants. As with lube, you'll find products specifically aimed at both men and women. What's the main difference between one and the other? Spray penetrates the skin and serum remains on the skin — creating an invisible film and providing extra lubrication. Lube, sprays and serums: for greater stimulation and for a tingling effect; to delay your orgasm; with relaxing properties for anal sex; to improve blood circulation; in short — for anything you can think of!
So, now you know the basics, find out which one best suits your needs, your tastes and the occasion. Whichever one (or ones!) you go for, we assure you that a little extra glide will go a very long way when it comes to enhancing your sex life.