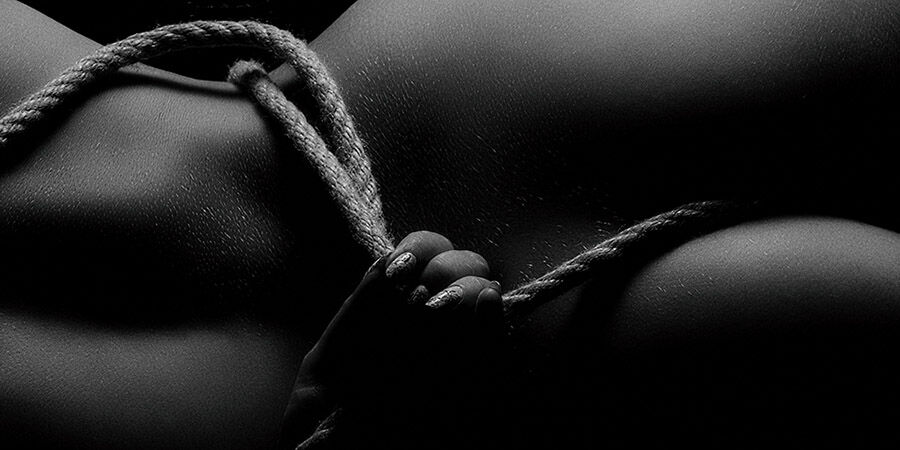 One room and two semi-naked bodies. Suddenly, your arms are gripped firmly and your wrists are tied to the headboard of the bed. Your ankles are tied to the bed. You can't move. Your eyes are covered with a blindfold. The ropes rub against your skin, providing a pleasurable burning sensation. Should it hurt? You can't move. You couldn't even if you tried with all your might. Now your partner can do anything to you. If you're turned on by this fantasy — you must try bondage. The term, which means servitude or slavery, refers to an erotic practice that links sexual desire to the immobilisation of one of the members of the couple.. A game of domination
Is bondage the same as BDSM?
No. Bondage is only the 'B' from BDSM — which stands for Bondage, Discipline, Domination and Submission.. Bondage must be safe, sensible and consensual (like everything else) and it doesn't involve using pain as a source of pleasure. It's the most popular of the four different BDSM activities and it's often practised independently from the others.
If the first thing that comes to mind when your hear the term bondage is '50 Shades of Grey', you're definitely not alone. Both this particular saga and the rise in popularity of other erotic literature has brought into the mainstream an underground activity that was long considered to be the sole territory of prostitutes and perverts. However, long before the novel by British writer E.L. James became a worldwide success, Hollywood 📽️ had been using the image of a tied-up and defenceless sex symbol to add a large dose of eroticism to its movies for many years.. Although it was not overtly presented as a sexual act — the sexiness was more than evident. Fay Wray tied to a pair of columns in 'King Kong', Virginia Mayo strung to a chair in 'The Secret Life of Walter Mitty', or a chained-up Charlton Heston in 'The Ten Commandments', are just a few of the hundreds of examples that are out there.
How to get started in bondage
First you must find out about the articles required. But don't worry — beginners don't need such a wide range of paraphernalia
What do you prefer to be tied up with? Ropes, ribbons, bracelets and handcuffs... now think, would you like to add that extra bit of excitement to the scene with some special props? Bandages, nipple covers, garters, harnesses, masks, body chains, whips — here, you set the limits. The brand Bijoux Indiscrets has a wide selection of bondage-inspired articles. You can find all types of intimate accessories with classic, elegant and sexy designs.
There's no doubt you'll find everything you need and much, much more.
Remember, if you're a beginner — you need soft materials and loose knots. It's highly recommended that you have a safe word in case you want to stop the action at any time. Don't tie the rope too tight, and, of course — never tie it around the neck. As a final recommendation, always have pair of scissors within reach just in case you're unable to untie a knot quick enough.
Bondage is by no means a perverted or abusive activity, and just in case you still had any doubts — neither is it considered to be a sexual paraphilia. The most important thing is that you set your limits, that you are not pressured into doing anything that you don't want to do, and that you have complete trust in your partner. With this rules in mind — choose your role, go ahead, and enjoy! Do you dare...?